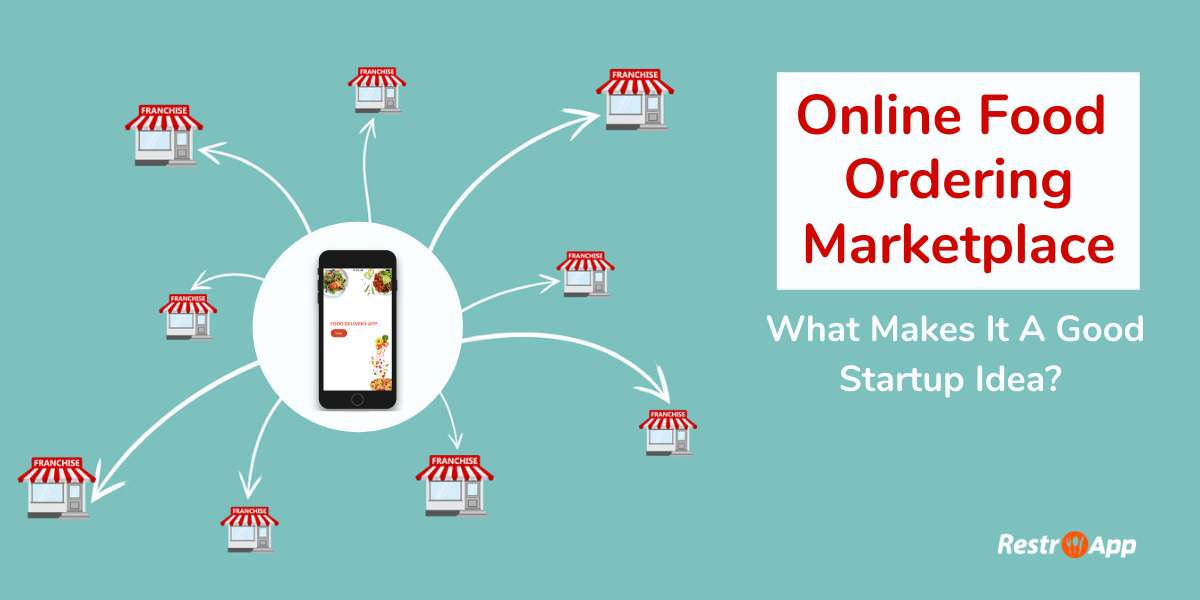 What do you mean by the online food ordering marketplace? Have you heard of it before? No or maybe a little? Well, you are on the right path! The online food ordering marketplace app has got a boom in recent years. If you are passionate about building a food ordering system and entering the food delivery industry, we can help you to create one!
Here in this article, we will do a quick rundown on:
What makes the online food ordering marketplace a great startup idea?
How does online food ordering marketplace work?
The food ordering marketplace models.
Things to consider before online food ordering marketplace development
What Makes Online Food Ordering Marketplace a Great Startup Idea?
According to Statista, around 44 percent of consumers in the USA use online food delivery services at least once per month. Great time for online food startups to thrive, isn't it? And that's exactly what UberEats, Foodpanda, GrubHub, and other food delivery platforms are doing right now!
Building an online food ordering marketplace is not as easy as it seems. It requires sheer determination to make such an app and market it. Right from its development, handling finances, and to reach customers, it takes time. There is not one app but three that includes one for users, another for delivery agents, and lastly for the restaurant owners.
How does Online Food Ordering Marketplaces work?
The online food ordering marketplaces are primarily the aggregator business models, in which the business owner earns profits through service charges. So basically, they provide a central hub where all the restaurants & other food delivery outlets of the target market are listed for customers to order from online food ordering channels.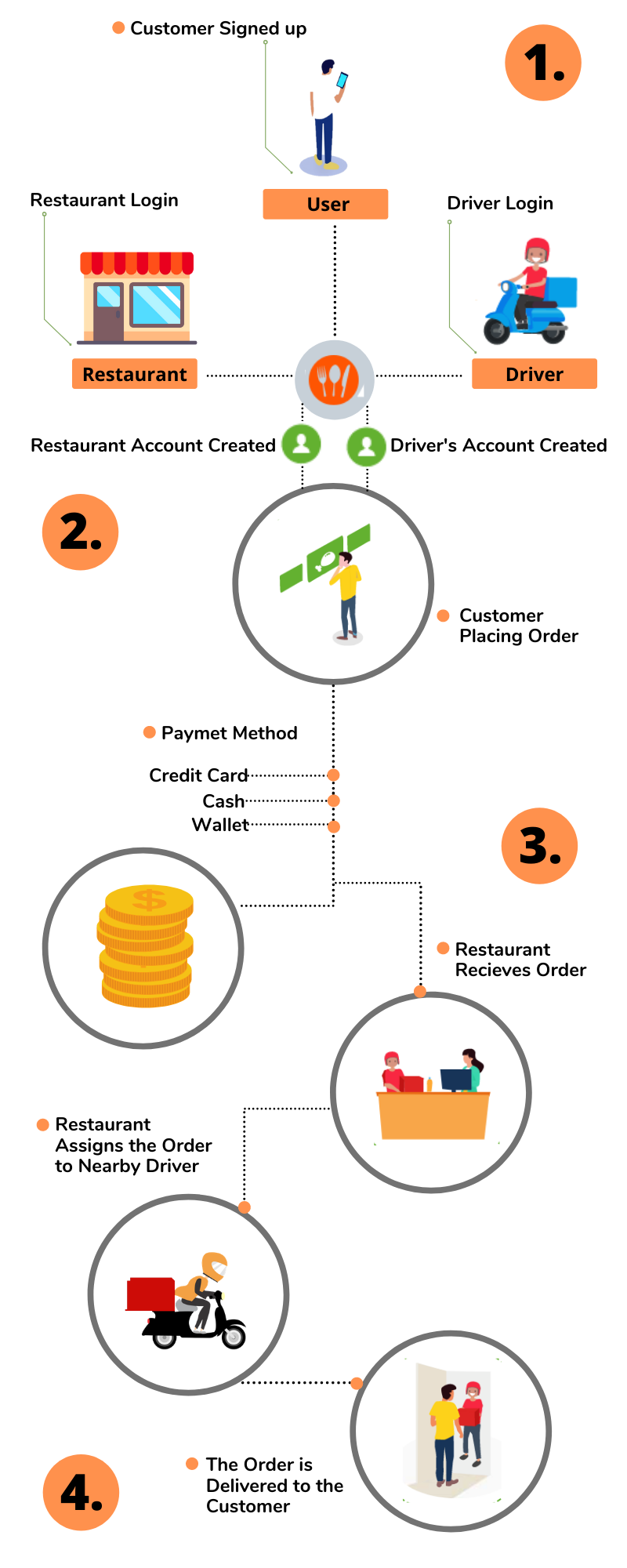 To get you through a natural process, we have mentioned some of the latest trends and how to develop the best online food ordering marketplace. Keep reading!
Online Food Ordering Marketplace Models
There are two online food ordering marketplace models that are currently being developed by startup apps like UberEats, Swiggy, Grubhub, etc. Let's take a detailed look at both!
1. Food Ordering Platform
The first one that is being used by the majority of customers to order food online. In this platform, food ordering apps act as an aggregator offering nearby restaurants to list on the app. Customers can access this app to order food from their favorite restaurants. The app displays an extensive network of restaurant food menus and helps to order the food item.

The system continually gathers information about restaurants, and customers can order from these restaurants after registration. These apps are more comfortable to use as it has the best UX to interact with the customer. Using food ordering apps, customers can quickly check menus and look through restaurants' rates and reviews. 

This online food ordering system helps restaurants to expand their market as it has got immense popularity from the customer's side. In today's time, customers look for an excellent place to order food from the restaurant. But one thing to note is that these platforms do not offer delivery service. Restaurants have to use their own courier/delivery service to deliver the food to the customer. Moreover, a 15% commission is earned through restaurants.

The biggest challenge for the app owners after taking a step in this industry is to reach restaurants. The app owners should look out for partners. Majorly, attracting a customer is the toughest job, and you need to find ways to attract customers. The rest will happen on its own.
How does food ordering platform work?
When a customer logs into the app, they select the restaurant and order food.

With the inbuilt payment options in the app, customers can pay at the time of ordering.

The restaurant receives the order and starts preparation.

As this is only a food ordering platform, the delivery service is from a restaurant.

The order reaches the customer, and payment is received.
2. Food Order and Delivery Platform
This model is different from the above-mentioned ordering platform. The food order and the delivery platform provide full logistics support to the restaurant. This is very beneficial for app owners and also a good source of profits. These services are a great asset for startups, small restaurants, and other minor eateries in the food industry. As new restaurants often don't have enough logistics resources to establish their delivery, they often turn to these platforms for delivery service.
With a food delivery platform, restaurants no longer need to worry about delivery management – no personnel, vehicles, fare cost, and so on. The ordering platform is the same as that of the other model that showcases restaurant menus, their prices, reviews, offers. With the best UX designs in the market, they simplify the ordering and payment process. 
The profits earned from this model are vast. It's a two-way income. First, they receive from restaurants as a 30% commission and other from customers as a delivery fee depending on the distance or sometimes it is also fixed.
How Food Order and Delivery Platform Work?
Customer place an order after login. At the time of placing an order, payment is done.

The restaurant receives the order, and they start preparing.

The courier partner arranges delivery by providing a delivery agent.

When an order is ready to deliver, the restaurant notifies the delivery agent.

The agent completes the delivery process and waits for the next order.

After confirmation, payment is deducted.
Things to Consider Before Online Food Ordering Marketplace Development
If you want to develop an online food ordering marketplace, as we already discussed, building a single app is not enough. Let's take an example; UberEats consist of a Customer App for users, Delivery App for delivery agents, and Admin Panel for restaurant owners.
Still, before you contact a company that provides an all-in-one food ordering app solutions, make sure to define the features you need. First, let's start with;
1. Customer App Features
Registration
Restaurant Searching
Easy Ordering
Payment
Live Order Tracking
Customers get acquainted with the app from their first touch-point; that is the signup page. The registration process should be fast and easy with minimum details. Most of the apps integrate it with the customer's Google or Facebook account. This is the best idea to complete the registration process. Once registered, and before the order placement, you can ask for more details like payment, address, etc.
Once the customer is into the food ordering app, they require a configured search option to navigate through restaurants. Customers search for a restaurant or cafe's name, location, or menu as per their convenience. Some filters include a price range, cuisines, ratings, etc.
When it comes to placing an order, the process should be clear and straightforward. Otherwise, most of the time, the customer will switch to another platform, and you will lose them. The process should be as simple as adding a dish to their carts in one-two clicks, as well as edit or remove it. Then goes to the final summary of the order and later should be confirmed before making a payment. 
Once the customer finalizes the order, it's time for payment. The main points to take care of at this stage are speed, security, and convenience. Integrate a few payment gateways like a credit card, PayPal, and Stripe. Start with offering 2-3 payment methods, and when your business expands, you can always add more if needed. As per the latest trends, customers also pay through wallets, so try integrating it.
This stage is beneficial for customer satisfaction and customer retention. Once payment is complete, the customer waits for the order to get delivered. That's when the tracking feature becomes handier as they can easily find out when the order will reach them. Courier's tracking is done by using the Location API provided by Google (Android) or CoreLocation framework (iOS). To check more marketplace app features, visit here!
2. Delivery Partners App Features
Registration and order management
Earning screen feature
Status
Registration and Order management
Same way as customers app, delivery agents should have their profiles for identification. Once it is set up, they will be able to handle the orders. 
After they log in to the app, they can access all relevant information about the restaurants and orders. To start accepting offers, they should press the 'go online' button. Once orders received, they can accept or decline requests. Also, they can update the status when the order is delivered. 
As per other features like status, delivery history, agents should be able to check their daily and monthly earnings. The marketplace app should also display the current balance, recent transactions, promotions, and cashing out possibilities. 
For consumers' convenience, delivery agents should update their statuses along the way. In this case, clients will remain aware of order processing and estimated waiting time.
For example, these statuses may include: Accepted/declined, Delivery in progress, Delivered.
Once the delivery process is complete, the customer should confirm it via the app. The payment is then deducted from customers' accounts or handed out to the delivery partner.
Customize your marketplace app, check custom food delivery systems.
3. Restaurants Owners App Features
Registration
Restaurant Management Feature
Payment
This works the same way as customer and delivery agents version apps. However, the restaurants should also be able to add all restaurant details to their profiles. It can be their name, location, menus, and more. Additionally, a special discount too.
Restaurant Management Feature
Restaurant details are essential to attract customers and get orders from them. Thus, it's essential to let restaurant staff add or update information on the dining place, including its name, address, working hours, etc.
Also, the menu management should be easy. Staff should be able to add names and descriptions of dishes, update prices. Finally, don't forget about adding photos as it's a great tool for user attraction.
When the app receives money, it should be immediately transferred to the restaurant. This way, you can build trust and be loyal to the restaurants.
Best Solution to Build Online Food Ordering Marketplace
The online food ordering marketplace like Swiggy, Grubhub, UberEats compete for a long time. To compete with them, choose the right food ordering marketplace model and the best app development company. 
Enthusiastic entrepreneurs must capitalize on the current dynamics to give customers what they want; and also commence a thriving startup in the process. To accelerate the growth of this potential sector, RestroApp also offers an on-demand as well as custom solutions.
Those keen on entering this booming business sector can reach out to us to learn more about our online food ordering marketplace solutions.