Earlier, people used to rely on word of mouth or stumble upon a good restaurant by mere luck. Also, the dining experience was different than what it is today. Those days they had to call a restaurant, and then speak to a person to make a reservation. But, nowadays people don't have time for such small pace things. They have become used to technology, which gives them convenience and time-saving options.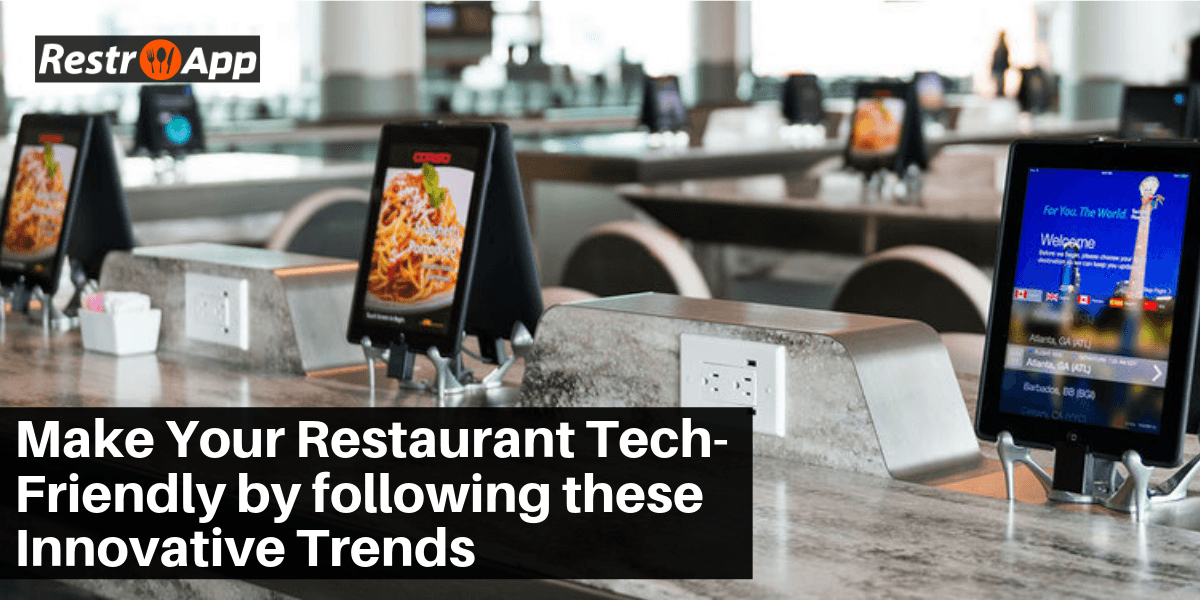 People rely on online rating and restaurant social media to choose the right one for them. Sometimes, as a restaurant owner, you are not able to figure out what's bringing down your restaurant. But, if you put technology in the right place and match up to the pace of today's world, then you can take your business in a new direction. And, how can you do so, by making your restaurant more innovative and tech-savvy?
There are many tech ways to make your restaurant innovative, but here we have mentioned a few Restaurant Business Trends:
 1. Online Food Ordering:
Online ordering is from one of the major restaurant business trends that are completely transforming the food industry. Online food ordering is becoming the talk of the town, and people prefer the easy way to get their meals.  They want to skip the long lines, long waiting hours, and want to dine in the comfort of their homes. You need to offer online food delivery option to your customers to be in the market. Moreover, you can reap significant benefits from online food ordering.
Good Revenue: 

Online ordering system lets customers place their order with convenience without any hurry from their devices. Moreover, customers prefer to browse the list of the menu on their phones, instead of hurriedly placing their order. With the online delivery system, they get ample time to decide, and it is seen they tend to spend $4 more on average than the conventional way of ordering.
Increases accuracy:

Earlier, food orders were made through phone calls and which led to many problems like, sometimes staff would take the wrong order due to background disturbances or miscommunication. Now, as orders are placed by the customer online,  there are no chances of misunderstanding. Moreover, quality and timely delivery of the food could be assured to customers.
Data Tracking:

You can track the information of your customers who place orders through your website. Also, you will come to know your regular customers, how often they order, and what they like. Accordingly, you can plan your discounts and special offers.
Moreover, you can also partner with many popular food delivery apps and use their delivery services.
2. Tablet Menu Ordering:
Level up your restaurant game by providing a tablet menu to your guests. With this digital menu, they can order their favorite and pay securely. This trend is already popular among various QSRs / Quick service restaurants. 
These days, customers prefer personalized touch to their meals. Tablet menu allows the restaurant to customize their dishes in the form of add- ons that pop-up.
Moreover, the orders are sent directly to the kitchen, and they tend to come out quicker than the conventional ordering system. When people are more hungry or want another round of drinks, they can tap" reorder." This way, you can enhance your service. Moreover, servers get more time to entertain the guests.  
3. Digital POS System
With POS( Point of sale), you can sync your system with ingredients costs, labor costs, guest counts, and other restaurant operations. It lets you cut labor costs and help your kitchen staff to prepare dishes more efficiently. Not only this, with the POS system like Digital Dining, your customers can browse a digital menu and pay for their orders. This will help you to serve the impatient generation of millennials with ease.
4. Restaurant Reservation Software:
People prefer to book their favorite seats beforehand to avoid last-minute chaos. They often make a booking through the restaurant website or social media. Restaurant reservation software can streamline the booking process, allow your staff to track and consolidate reservations into one platform. In addition to this, the software offers other features too.
Online booking widgets:

Now, Restaurants don't have to rely on phone calls to receive a booking. Instead, booking can be made online either via website or restaurant social media. These online booking widgets saves a lot of time and avoids last minute hassle.
Customer Database

:

This feature lets you store detailed information about your guests. You can also track reservation, history, preferences, allergies, and more. With this data in hand, you can serve your guests better.
SMS and Email confirmation

:

With this feature, you can intimate your customers about their reservations by sending SMS and emails. This way, you can keep your customers informed beforehand. You can also try reservation apps like the Open table as it has a vast customer base. 
5. Pay your Way:
These days, customers look for easy and frictionless payment ways, and this can be provided through the POS system. POS can be used to process credit cards at the table. Furthermore, mobile POS can let the server scan the guest's phone and pay via ApplePay or SamsungPay.
Customers don't have to wait for their checks. Instead, they can pay on tablet menu equipped with EMV( chip) card reader and mobile payment scanner. You can also alow your customers to make online payments on your restaurant apps, while they are ordering food online.
6. Email Service Provider:
You can manage and craft attractive email marketing campaigns through MailChimp. In addition to this, you can track analytics, like who opened the mail and clicked on it. This technology is easy to use, budget-friendly, and helps you to improve and create target-oriented marketing campaigns.
7. Self-Order kiosks:
This technology is emerging in Quick service restaurants. Mcdonald's and Wendy's have already embraced this new tech. Kiosks are the self-service touch screen where customers place their orders without standing in a queue. By implementing kiosks at your restaurant, you can free your staff to do other stuff.
8. Free Wi-Fi Service:
With the growing trend of social media, people prefer social media shares and free Wi-fi at the place they dine. Many corporates look for free wi-fi options where they can work and enjoy at the same time. Wi-Fi enabled restaurants to witness new and existing visitors.
You might be following these Restaurant Business Trends already, but you need to bring more innovation in the conventional methods and adopt new ways. People prefer tech-savvy restaurants over traditional ones. These can boost customer engagement and attract a new bunch of crowd to your restaurant.