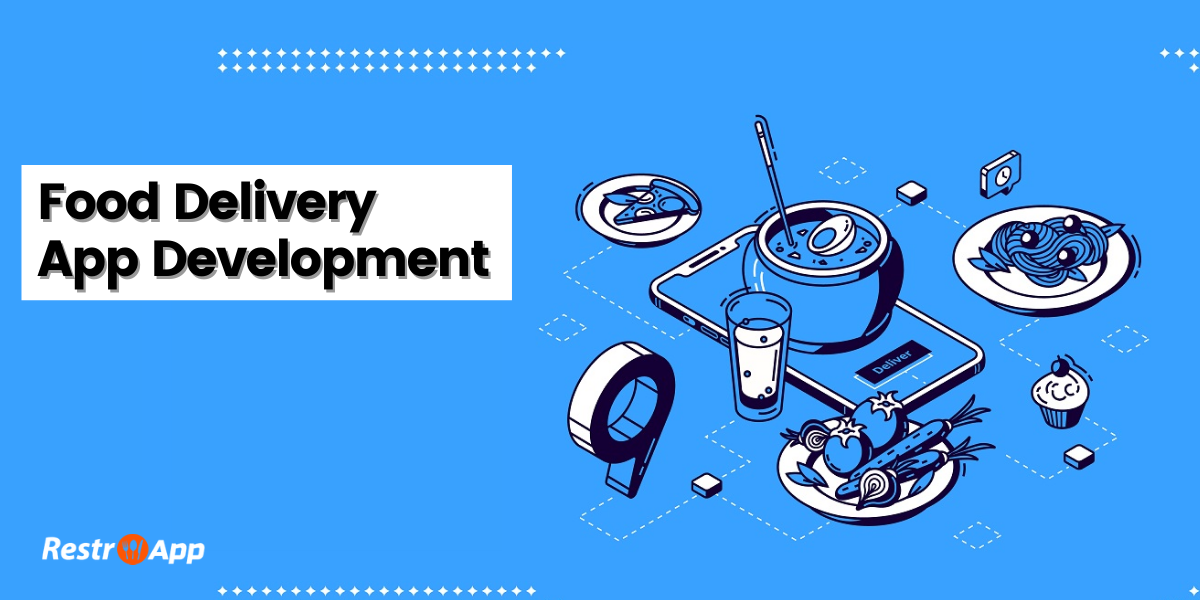 Customers in the food delivery businesses tend to be more unstable at loyalty. What people are liking today might hate tomorrow, or a new competitor might seize some of the customers too.
There is a possibility of almost everything in the food delivery business. So, nothing like 'constant' can be expected here. But then how do food delivery businesses really survive?
The actual objective of this business is to ensure that good food is delivered to the customers, and on time. The 'time' does matter in this business, as the competitors are all set to serve your potential customers and turn them into their potential customers.
Hence, the strategy to exist in the market has to be super robust.
Have you ever used any food delivery app like Zomato? Well, if you have, you must know that most of these apps deliver their customers a blend of food and comfort. And, that's what people want. The food delivery app simplifies this process of delivering food, making it a comfy deal for the customers to enjoy some delicious cuisines right in the comfort of their homes.
So, that means customers are hooked depending on how well you have invested in the 'food delivery app development process.' When the customers are able to scroll the categories smoothly, click on food items in minutes, and order their favorite food with the utmost ease, it becomes easier for them to order.
Hence, it wouldn't be wrong concluding that a highly scalable and feature-rich food delivery app is the key to getting success in the food delivery business.
How 'Food Delivery Apps' are Benefitting Everyone?
There are reasons why all these gigantic food businesses rely on food delivery apps for their business. Food delivery apps bring certain advantages to both – the customers and the food deliverers.
Let's check out what those advantages are:
Advantages of Food Delivery Apps to the 'Customers'
The food delivery apps are built for the utmost comfort of the customers so that they can enjoy their favorite dishes in the comfort of their homes. Here's what else they can enjoy with these apps:
1. Convenience and Ease
The first one has to be the ease and the comfort that the food delivery apps deliver to the customers. Especially during phases like this (the COVID-19), it is tough for the customers to go out and opt for dine-in options in their favorite restaurants.
Of course, there is a constant risk of being infected with this deadly virus, and spreading it to others as well. Hence, the customers are not just enjoying the ease and the comfort with food delivery apps at such times, but also the dedication of the food industry to deliver their favorite cuisines at such difficult times as well. That's simply commendable.
2. Time Savior 
Another reason why customers are crazy after all these food delivery apps is to enjoy the saved time, which otherwise would have been wasted in visiting the restaurants, undergoing the sanitization process, and then waiting in the queues for their turns. However, with food delivery apps, it is way easier to save time and effort to order your favorite food with just a few clicks. Hence, customers who really value time, choose to rely on the food delivery apps for ordering food.
3. Money-Saving Deal 
Frequently, apt discounts and deals are given to customers who order via apps. So, in case you are ordering your favorite dish using the food delivery app of that particular restaurant, chances are that you will save a few bucks on the deal. The promo offers, discount coupons, special deals, and some exclusive offers will always help in saving your money while enjoying the best of the foods in the town.
4. Digital Ordering System
The current scenario is all about being digital. That even is similar to the food delivery business. The digital ordering system is what's currently trending all over. This digitalization on the whole new level is something that has helped the customers in reaching out to their favorite food easily.
With digital versions of menu cards available now, it is way simpler for the customers to browse different cuisines and get it at the comfort of their homes in no time. Hence, digitalization is a new good thing for both the customers and the food delivery businesses.
5. Secure Payment System
The world is not about being cash full anymore, the times have changed and so has the customer's payment methods. Since the pandemic doesn't allow us to deal more in cash, due to the terror of spreading the virus and infection, all businesses must keep multiple payment options available for buying an easy deal for the customers.
Do you know that not having different payment options can actually hurt your business? The customers could just quit the idea of ordering from your app if that is not offering them multiple payment options. Hence, if the food delivery app has multiple payment options, including credit cards, debit cards, net banking, PayPal along with COD, the customers are bound to feel the comfort of buying.
6. Order Tracking Option
When opting for a food delivery app development process, the businesses must keep in mind to incorporate a highly reliable 'order tracking option,' as that would allow the customers to enjoy seeing – order-initiation time, current tracking, and exact time left to reach the destination.
Hence, being a customer, one must be able to see how their order is reaching their doorstep. This feature satisfies the curiosity of the customers to see what's happening with their orders.
Advantages of Food Delivery Apps to the 'Businesses'
The food delivery apps are built to deliver comfort and ease to the businesses too. Not only do the customers enjoy seamless services with the food delivery app, but also the businesses. Let's see how:
1. Accelerated Customer Engagement 
One of the prime advantages of 'food delivery app' for businesses is that it accelerates customer engagement. This app creates a connection between the customers and the restaurants, allowing both the parties to enjoy the food deliveries to the utmost.
Besides, the rich features in the app let you deliver the food on time, allowing your customers to enjoy quick and comfy services right in the comfort of their homes. Excellent customer service via your food delivery app can help in satisfying the needs of your customers, letting you enjoy a better business.
2. Boost in Sales
The main purpose of any business is to earn higher profits, of course, while nourishing the customers. To get a boost in sales, your food delivery app can be your best pal. Wondering how? Well, if you have invested in a good food delivery app development team, you are bound to get higher sales.
Features like push notifications, messages, timely discounts, exclusive festive deals, and other lucrative options, then they are bound to stick to your business. Eventually, when you are doing everything to keep them (quality food and exclusive deals), there is a higher chance that you are building long-term customers, for sure. Hence, a boost in sales!
3. Higher Brand Loyalty 
Now, let's suppose your customers are getting everything, including quality food, good service, exclusive deals and discounts, timely service, and everything else that is needed from a food delivery app, why would they leave your side. But the quality standards should be so high, that your customers should feel it, without saying much.
When they are getting what they want, they will stick to your food delivery business. Hence, a highly scalable and feature-rich food delivery app can easily help you attain a better business and higher brand loyalty. Deliver quality services, timely order status, and other relevant information to app users for better brand loyalty.
4. Utilize the Information 
Data collection is common in every business, including the name, address, location, gender, age, food preferences, and many other details. Since your food delivery app will help you in collecting the data based on different factors, including their name, age, gender, and most importantly, food preferences, it would be easier for you to deliver a highly customizable food delivery experience to the customers.
While they would love this customized food ordering experience from your app, it would be easier for you to sustain your customers for the long-term, which is actually great for your business.
5. Competitive Edge
The food delivery app must definitely have a review section so that the customers can leave a genuine review regarding your food and services. Now, why is it essential for you to have this feature to develop, and progress in the food delivery business?
Having a review section in the app will help you know what customers think about your food and services. Of course, be ready for both the positives and the negatives, as that will help you in growing and knowing where your business stands in the market.
6. Boosts Job Opportunities
When you are utilizing a food delivery app, you are not just serving the customers, but also increasing the job opportunities for the people as well. Your business will need delivery agents, and that's how you even help people in earning the living. Besides, with more delivery agents, it will be much easier for your customers to enjoy uninterrupted seamless food delivery services.
Now, we are acquainted with all the benefits of the food delivery app to both the customers and the food delivery businesses. How about exploring essential features of a food delivery app, so that both the parties (customers and businesses) enjoy the ease and comfort to the fullest.
Features to Add in an 'Exclusive' Food Delivery App
That's not easy! There are some special features required to be incorporated in the food delivery business, otherwise, it is a fail.
So, here's what you need to do when developing a food delivery app for your business:
When developing an on-demand food delivery app, it is recommended not to rely on just one app. The app needs to be developed with different perspectives – from the customer's view, business's, and delivery agent's view as well.
Hence, if you just rely on one app, the results wouldn't be so stirring. However, if you invest in the development of food delivery apps from a different perspective, it would be easier for you to attain success in the business.
Developing On-Demand Food Delivery App from Every Stakeholder's Side
So, there are four stakeholders, when it comes to developing a food delivery app for your business.
Those stakeholders are:
Restaurants
Customers
Admin
Delivery
1. Restaurant – The restaurant app should incorporate sufficient features to make 'food delivery' an easy deal for both themselves and the customers. So, the essentials in this app would be login, push notifications, a simple menu management system, and managing the ratings and the review. With all these vital features, it would be easier for the restaurant to manage everything in one place, without really messing up things.
2. Customers – The next side of the food delivery app is the customer side. With this app, customers should enjoy the quickest food delivery possible besides enjoying the ease to order. Also, customers love when they can track their orders. Hence, the customer app of a food delivery business must have login, cart, order tracking, multiple payment options, search menu, customer support, and rating & review.
3. Admin – The third category or side of the food delivery app is the admin app. This app must allow the admin to manage everything comfortably. With the help of features like admin login, application management, payment management, discount coupons, offers, technical help, order management, deliveries management, and many other essential options, any restaurant can easily manage their food delivery business.
4. Delivery – The last and the final side of the food delivery app is the 'delivery app.' This app should minimize the efforts of the delivery agent to deliver the food in the least possible time. Therefore, this app should have proper registration, login, order management, order status management, route tracking, and other such essential features to make it an easy deal to deliver the orders on time.
Essential Features for your On-Demand Food Delivery App
When in doubt, simply integrate all these essential features in your on-demand food delivery app, and you will be ready to go.
Top Features That Are Essential for Your 'Food Delivery App'
1. Discounts and Rewards
You are bound to attract customers, as your business demands that. Otherwise, your competitors are all ready to grab your customers instantly too. Hence, your food delivery app must certainly have proper discounts, rewards, special offers, cashback, and almost everything else that can help you in grabbing more customers every day.
Since you have a lot of competition and it is not easy to sustain customers, offering them exclusive deals from time to time is the only option other than quality food to keep them for long-term.
2. Push Notifications
The online 'food delivery' industry is growing massively, especially after the Covid-19 has hit the world. As we said, one app wouldn't fulfill the purpose, it is better to invest in more than one 'food delivery apps' for making your business a success in a quick time.
You will have to create visibility in the market and be better than your competitors to stay ahead of the competition. Hence, the need of the hour is to add features like push notifications in your food delivery app to make the most of your business. Timely notifications regarding deals, discounts, and other exclusive offers can help you in staying connected to your patrons easily.
3. Easy Payment Options
Nowadays, there is a very little percentage of people who are visiting restaurants for eating. Most of them are opting for ordering food at their homes. The reason is safety and comfort. Besides, ordering food online is quick and simple. Now, if you wish to keep your customers hooked, it is mandatory to invest some time and cost in developing a food delivery app that is highly scalable and interactive.
Plus, it must incorporate all the features, which you think can simplify the ordering experience of your customers. Customers should have ease of payment too, which is possible when multiple payment options are available for them to pay for the ordered food online.
4. Social Accounts Integration
Undoubtedly, one of the best things you can do for your customers is to allow them to log in or access the app through their social media accounts. Not only will it help you in knowing more about them, but also help them in managing their account seamlessly, without much hassle.
Customers who like your services and food will surely share photos and videos on social media or they will simply tag you in their posts too. So, no matter if they post a photo, share a video, or simply tag you, your business is bound to get the much-needed marketing, and that too for free. Isn't that a lucrative deal, though?
5. Ratings & Reviews
The food delivery business is incomplete without proper feedback. Customers should have the option to give reviews and ratings, and your food delivery app needs to have a feature, where they can share their reviews and ratings quickly. Don't worry about the negative comments or ratings, as that will help you in growing and making better decisions for your business.
When they have added negative feedback, you can always improve those points to deliver better and enhanced 'food delivery' services to your customers. Hence, having an option where your customers can give ratings and reviews will always help your business is growing.
Challenges when Developing a Food Delivery App – Solutions to Adopt for a Seamless Business 
App development involves certain challenges, and that goes for your food delivery app too. Here are challenges that you might face when developing a quality food delivery app.
1. Collaborate with Restaurants
This could be the major roadblock in your food delivery business. When you are not able to find enough restaurants to collaborate with, it could be a tough time for your food delivery app. Hence, to maintain a stable food delivery business, it is better if you can collaborate with newbie restaurants or small restaurants, who are looking to promote their businesses. Since it is an initial stage of your business, it would be better if you can increase the partner count.
2. MVP Features
How well do you decide the MVP features are also a big challenge to combat when developing a food delivery app. Since it has a huge impact on deciding the final cost of the food delivery, it is important to spend a good amount of time deciding the features of MVP.  The agency that you have partnered with will help you in developing the right MVP features. With the right MVP, you can develop a good app, leading you to do better business in the future and raise more money.
3. Competition
Amongst the biggest challenges is the highly competitive market. We all know how competitive the 'food delivery market' is. Entrepreneurs who are thinking of stepping into the world of food delivery business will have to bear the competition in mind.
The market is already stuffed with dozens of grocery delivery apps, but if you want to sustain in this market, it is needed to incorporate something unique and extraordinary in the app for standing out of the crowd. You have to choose both the UX and UI smartly and deliver expected results to your customers.
4. Collaborating with Reliable & Trustworthy Agency
The best you can do for your food delivery business is to find a highly reliable and trustworthy agency that can help you in building a scalable, interactive, and engaging food delivery app for a seamless business. Hiring an app development company is not so easy.
Choosing the wrong app development company can hurt your business in the long run. So, it is recommended to invest ample time and cost in developing the app for your food delivery business. Interview a few app development agencies, scrutinize who fits the best to your needs, and then finally make a decision. You need to rely on a company that is experienced, trustworthy, and reliable.
Cost of Food Delivery App Development 
Finally, the cost of food delivery app development!
There are numerous factors involved in building a highly scalable and reliable food app. It highly depends on factors like how much do you need in a food delivery app. That means what all features do you need in a food delivery app. Besides, see what's the complexity of the project? What features will make your app a success?
There are different food delivery app development agencies, who opt for different strategies to develop the food delivery app. The time and cost could vary for different companies. So, you will have to see your budget and the app needs to finalize the food delivery app development company for developing the best food delivery app for your business.
Generally, factors like mobile app design, features, ap testing, developing different versions of the app, and app launching are considered when deciding the price of the 'food delivery app.' Sometimes, there is also a need to develop a website for the food delivery business, in that case, of course, the price will be accelerated.
Factors to Consider While 'Food Delivery App' Development 
Different factors to consider while developing an app for your food delivery business are as follows:
1. Combine Features for Comfort & Convenience 
The customers are finding convenience and comfort when ordering food from restaurants. They don't want to go to restaurants to stand in a queue and wait for their turns. Besides, the environment is not too safe to eat anywhere as of now.
So, when developing a food delivery app, it is recommended to invest in some rich features that eventually enhance the ordering experience of your customers. These features could include, seamless app design, smooth scrolling, new and unique features, easy to click buttons, seamless search option, and some other similar options, which you feel can make 'ordering food' a comfortable experience for your customers.
2. How is the Audience Reacting to your Business?
You are a startup, a newbie, and when you have just commenced your food delivery business, it is important to begin locally. The business has to be first tested at the small level, in order to keep it running (successfully) at a larger level.
If you are receiving a good response from the local audience, you can certainly think of expanding your business to a larger level. Hence, the need is to invest in a food delivery business at a small scale first before proceeding to the bigger level. Progress only after you have got a good response locally, and if not, scrutinize the points that can help those weak sections of your business enhance.
3. Technicality Matters
No matter which app development team you have chosen, the technical aspects can never be ignored. Besides, you need to pick a technology that suits your budget and requirements. If you have relied on a rich, reliable, and creative development team, they would surely suggest the best technology stack for your food delivery app.
Technicality matters, when you are stepping into the food delivery business. Your customers will see what your development team shows them via the app. Hence, the app has to be smooth, easy-to-access, clean, and easy-to-operate, as customers won't waste time in understanding the complicated apps, they would simply switch to your competitors. So, pick a technically sound app development team for a profitable food delivery business.
4. Impressive and Engaging
The need of the hour is to develop a food delivery app that is engaging and impressive. Understand that your customers require instant gratification. In case, they are facing issues, they want you to address that instantly. The app must have all those essential features that address the issues of the customers. The food delivery app should be engaging and impressive to keep the customers hooked.
The customers won't stay with lengthy and tedious apps. Customers want something easy-to-use apps, which has simple navigation, is impressive and engaging. And, since the customer is the king, you will have to invest time and effort in building such a reliable app.
So, these were some simple yet effective factors to keep in mind while developing your food delivery app. Now, let's see what really goes into the development of such apps.
Process of 'Food Delivery App' Development
Those who believe that it is an easy chore to develop a 'food delivery app' are not absolutely wrong. Just the development team needs to follow the right path, and that's all.
Here are those important steps to follow:
1. It All Starts with a Mere Idea – Planning
The very first step is planning, where you think of transforming a simple idea of developing a highly reliable food delivery app into reality. In this step, a proper meeting should be conducted with the teams to make them understand what your actual idea is.
What do you really wish to deploy to your customers? What is your objective with this app? And, what are the goals that you need to fulfill with this food delivery app? You must also prepare a detailed timeframe and cost that you are willing to invest in this process. Don't forget to mention the exclusive features that you want the development team to incorporate into the app.
2. The Next Step is to Design, and Design it Well
The second step is to catch the attention of the customers. Designing is an important step, and you must know that the UI and UX of the app do really matter. The objective of any app's design should be to attract the customer's attention so that they don't switch or stick to your competitors.
A dull and non-interactive app is not what you are going to deliver to your customers. The app has to be interactive, engaging, and beneficial to the customers. A combination of some rich colors along with graphics, images, videos, and text should be considered when developing a highly engaging food delivery app. Remember, an attractive app is what connects you well with your customers, so don't hesitate to invest in it.
3. Then Comes the Development Phase 
After you have decided on the design of your food delivery app, the time is to move to the development process. The actual development, your mere idea is now going to convert into a real app, which will eventually reach the customers. Developers will write code, create different functionalities, add all those rich features, and use the best technology to deploy your highly scalable and interactive app.
Since this step is highly important in the food delivery app process, it is important to invest more time, effort, and cost at this stage. Don't hesitate to invest more cost, if needed, as that might affect the quality of your app, not ending up delivering results that you are expecting.
4. Now, Test the Beta Version of the App
Keep this on your priority! The priority is to build a 'Beta Version' of your food delivery app. Of course, it is important to test everything developed, including the functionalities, features, categories, lists, clicks, buttons, payment modes, and everything that is seen on the app.
It would be really effective for your app if you could get some genuine opinions of some app users. It will help you improve the app and create a better version of the same. When testing the beta version of the app, it is required to get it tested by the users, evaluate numerous functionalities and features for understanding whether anything needs to be improved in the app or not.
5. Finally, Launch your own 'Food Delivery App'
Now, when you are completely satisfied with all the testing done in Beta Testing, it is finally the time to launch your app. Get your social media team ready, as they will play an important role here. Now, when your app is ready, you will need some time to market it and let people know about it.
Rely on the traditional marketing options along with spreading the word on all social media channels to let the world know about your creation. Don't skip promotions, as it is one of the most important and initial steps to connect with the customers.
6. 24×7 Support 
No matter what technology you choose to settle down the queries of your customers, the point is that you have to. You can't skip the queries, feedback, or concerns of the customers. However, you should be relying on the right technology to do that. Invest in good technology to connect with customers.
You should be giving them constant support, 24×7, to ensure that their problems are addressed on time. When in the food delivery business, always remember that 'customer experience' really does matter. If your customers are content with your services, your business will grow. Hence, you will have to do everything to keep them hooked.
The Takeaway Message (Before You Start Developing your Food Delivery App)
Food delivery apps are in demand – the customers are enjoying the comfort and food at their places. It is the best time to enter the food delivery business. Right now, everything that the customers want is comfort, safety, and good food.
If your food delivery app is able to deliver that to the customers, there is no chance of fading in this market. The only need is to invest a lot of planning, time, and effort into deciding how exactly you wish your app to look. Does it fulfill the needs of the customers? Will customers really be satisfied with what you think will make them happy?
Ask yourself such questions and scrutinize your own app (like an app user) before launching it, and you will know where the improvement is needed.