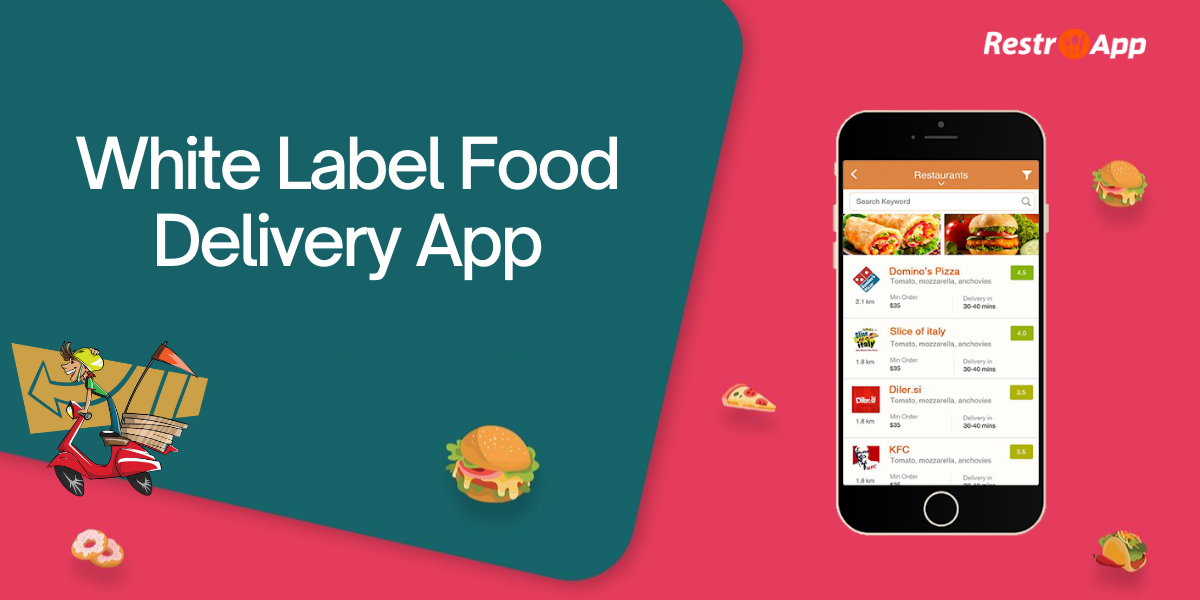 Online food ordering systems are on the surge. The credit goes to giants like Uber Eats and Grubhub – who delivered a comforting blend of convenience and comfort amalgamated effortlessly with the technology to enhance the food delivery experience for the customers. The ease of ordering food has simply been amended with 'food delivery apps.' And, this ease of accessing and ordering food along with delivering convenience and comfort to the customers is possible only when your business is backed up by the white label food delivery app. 
Why White Label Food Delivery App + Development in Mobile Technology 
White label apps, as we know, are built by the white label development company. Such apps are resold and rebranded by different businesses. White label food delivery app for a food delivery business is an intelligent solution, here's why:
Development in Mobile Technology During COVID-19
Before everything, let's see how has mobile technology developed recently. Self-isolation has initiated the demand for online food ordering system and delivery services. Earlier, patrons were willing to experience the restaurant's ambiance, hot food served, environment, and the whole vibe of the restaurants. The scenario has changed since the COVID-19 has hit the world. 
Now, people are highly inclined towards ordering from their mobiles. The food delivery apps have gained traction during this pandemic. Now, the consumers are highly relied on these 'food ordering apps' for getting orders at the comfort of their homes. 
Hence, this growth and additional inclination towards 'food delivery apps' has led to growth in mobile technology. Mobile apps allow customers to easily order food from their favorite restaurants, make easy payments via different payment options, and schedule curbside pickups. 
Why White Label Food Delivery App is Apt for your Business?
Now coming back to 'white label apps,' it is developed by one enterprise, used by multiple brands for their business. 
'White label programs' aka 'reseller programs' are called so as the products or services can be used and rebranded without any hindrance. That's how multiple companies buy and utilize these white label solutions to customize it as per their demands. 
Hence, white-label solutions are an intelligent pick, when it comes to building or launching your food delivery app. It even allows companies to expand their services, without much investment and effort.
Besides, there are more reasons why anyone should opt for 'white label solutions' for their food delivery business. 
1. Cost-Efficient 
Opting for a 'white label solution' can help business owners in saving gigantic investment costs. Since everything is readymade and effectively prepared, there is barely any need of investing more or additional hours in the development process. now, let's suppose if you choose to invest in designing and developing everything from the scratch. Wouldn't that be a great deal for you? It would cost you way more time, money, and effort than opting for white label solutions. A white label food delivery app for your food delivery business is just the right thing to opt for. It saves time, cost, and efforts of your development team too. 
2. No Hectic Branding 
Branding could cost you an arm and a leg. However, white-label solutions come in handy in rebranding the food delivery app. One barely faces any hindrance stepping into the food delivery business, when a white label food delivery app is used. Why you should be opting for it is its enhanced productivity and customizations. There is no hindrance to customize it as per your brand. The pre-loaded features and simple personalization make it super easy to turn it into your own brand. Besides, it even eradicates the extra costs incurred in the development costs. 
3. Simplified Development Process
As we said earlier, white-label solutions are highly customizable, only the least is to be done by your development team to launch your food delivery app. No additional costs, no extra efforts, no extra hours needed. This, in fact, speeds up the entire development time, making it ready for you within a few days. hence, lightning-fast development can be expected when you are relying on white label solutions for building and launching your food delivery app. 
4. Happy Customers are Expected
White label solutions can help customers in reaching the outcome or the results easily. As white label solutions provide only the best path to reach the final destination, within the least possible time, it is clear that both the parties – you and the customer – will remain happy. Customers are getting to order from the app soon and you are going to get your app in the least possible time. Hence, the expected results will be achieved in the shortest time possible. 
5. Focus on Apt Solutions 
The white label food delivery app allows you to focus more on business's important tasks rather than wasting time on tedious activities. Besides, development is not an easy task. It requires a specific skill set to build an app that is effective and delivers results.
A white label food delivery app lets you rely on the experts in particular areas, which otherwise consume many hours and time to bring results. This pre-packaged solution allows you to save time and effort wasted in building a specific skillset for launching an effective food delivery app for your business. Since such solutions offer only apt solutions, it is a rare chance of making any mistake while launching the food delivery app. 
Essential Features of a White Label Food Delivery App
Some critical features make an effective white label food delivery app, which is as follows:
1. Admin Panel
A white label food delivery app will even let you enjoy an admin panel. It includes full control over the activities happening in the restaurant. You will even be managing the restaurant's reviews and testimonials. The multi-store and customer insight give more and better control to the admin for managing the food delivery business, without much hassle. 
2. Customer Panel
Then you have the customer panel that integrates geofencing, multiple payment options, discounts, offers, reviews, ratings, and easy access to users along with simple registration. The customer panel has almost everything that will make the ordering experience easy for your customers. Besides, it will lead to a much smoother business, which is barely possible without a white label food delivery app.
3. Delivery Panel
This panel helps the delivery agents in delivering the orders on time. It allows the delivery agents to securely login into their specific accounts. Then, this panel has streamlined deliveries for the day, which is generally the daily task of the agent. Apart from this, the delivery panel even lets delivery agents see the order notification on time besides tracking the route and time for every delivery. Hence, the delivery panel has all the features and options, which would simplify the process of delivering orders. 
Related Read: What Expectations Do Consumers have from Your Food Ordering App?
4. Restaurant Panel
The panel lets track payments and deliveries easily. When everything is in one place, it becomes easy to manage everything. Order management and menu management become effortless with the restaurant panel. Besides, the owner can even track, compare, and manage daily sales, without worrying about keeping everything in one place.
FAQs about a White Label Food Delivery App
When new in the business, it is easy to lose the right path and make mistakes too. However, if your business is backed up by the white label food delivery app, it is quite effortless to stick to the right path and wait for successful outcomes. 
Here are some frequently asked questions regarding white label food delivery app:
1. How do I choose the right white-label solution for your firm?
You can't just rely on any solution – it takes effort to select the best one. The white label solution that you will pick must match the objectives of your business. The solutions should be compliant with the needs of the business. Besides, whatever solutions you pick, should be easy to access and scalable enough to make things work excellently for your business. 
Also, when you are buying white label solutions, be sure to answer these questions and get answers for the same.
Does the white label solution match the business requirements of your food delivery business?

How well does it support your business and how quickly can you expect results?

How quickly would you need to upgrade the app and fix the bugs in your food delivery app
2. How well does your chosen white label solutions support your business?
Just supplying the apt solutions is not enough, there should be constant support from them too. The business should not face any hindrances later when delivering orders. Or if it does, there should be timely and consistent support to solve the issues. 
Here are the questions, for which you need answers:
Will you be able to see a sample before actually getting the final and completely white label food delivery app solution for your business? 

Is there any guarantee provided for data recovery and support if any issues arise during the process further? 

Will you get to experience any additional service for boosting sales?
3. How can I promote my food delivery business?
Building a successful food delivery business is a promising idea, but it takes a lot to promote this business, as the competition is high and time is limited. 
Begin by understanding your targeted audience
Create a personalized message for your audience

Pick the right communication channels

Create an effective content marketing strategy

Design customized solutions for customer's problems
Build a unique/ brand-oriented selling pitch
Mention unique solutions for your customers

Don't hesitate to talk about how you are better than your competitors

Don't be sales and push, be friendly and offer solutions
Content Marketing has to be well-planned
It increases customer engagement 

Fulfill the expectations of your customers by providing the right solutions

Effective content marketing strategy results in better results and profitable results. 
Social media is highly effective in building a better food delivery business
Rely on social media channels that are trending 

Team up with the influencers

Keep posting regularly

Maintain communication with the audience

Conduct giveaways and contests on social media
Video content is way more effective than the text
Videos in an email lead to an approximately 300% increase in CTRs

Video content brings 50% more web traffic from organic searches

Highly engaging videos help in engaging more customers to buy products

Mobile video customers share videos with others
Email Marketing is still effective
It is a cost-effective option for promotion 

Helps you reach a larger audience

Assist you in informing customers about your contests and discounts

Allows better engagement with the customers
4. What benefits do white label ordering and delivery apps serve?
Various benefits can be enjoyed with a white label ordering and delivery app. Here are a few;
Offer product delivery at the customer's doorsteps. 

Provides a powerful dashboard for managing everything in one place

Keep an eye on every user with unique features, including timely monitoring, profile management, access to all services along with the business report for better business. 

The size of the business doesn't matter, white-label solutions work effectively for all types of order and delivery business, including the food delivery one. 

Everything is simplified with the pre-equipped business solutions incorporated in white label food delivery app solutions. 

The entire development process is simplified when you rely on a trustworthy and highly reliable white label food delivery app. 

There is the least time required for building and launching the food delivery app, which means there will be lesser hindrances in deploying the app to the targeted customers. 
We hope that after knowing all the details about the mobile food apps. You will be interested in creating one for yourself. If you want your app to stay longer in the market you need to be open to improvisation and criticism.
For this, all you need is a professional team that can help you in creating a responsive food app. Further, you can contact us at info@restroapp so, that our experts can help you in creating a restaurant app with all the latest features that too within your budget.