Mobile technology has taken the market by storm. It has transformed the working of the restaurant industry. These days brands promote themselves on social media via mobile technology. The market share of restaurant online ordering apps has grown in recent years which has given rise to the demand for restaurant mobile app development.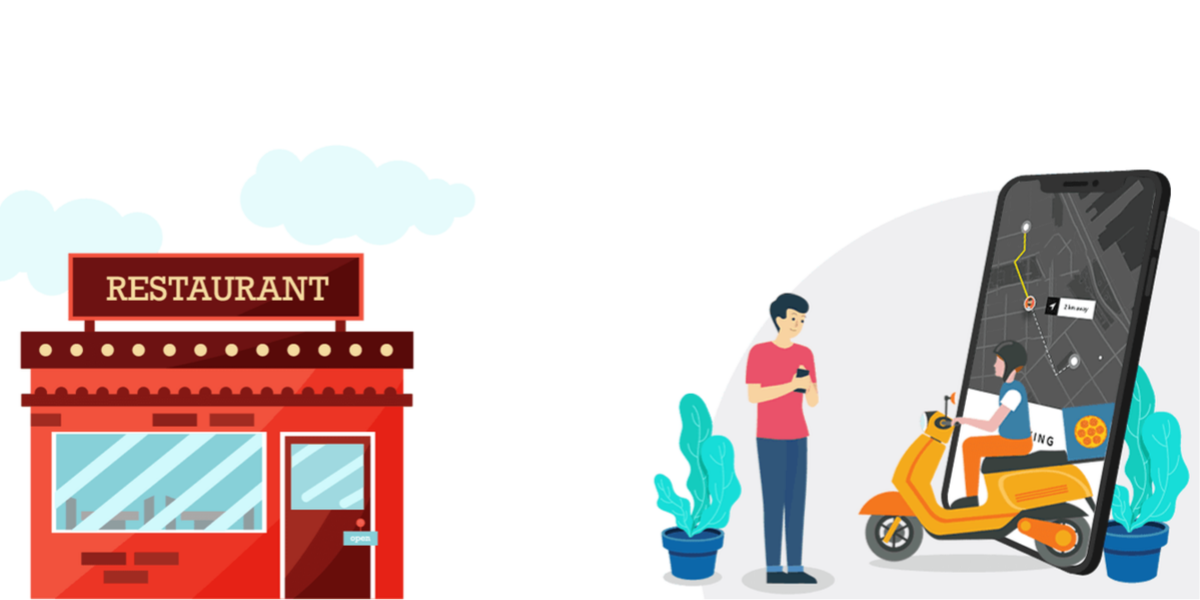 Why do you need to invest in a restaurant app?
The mobile technology has revolutionized the entire communication scenario. Today, in such an impatient world, consumers want to get access to each and everything within a single tap. The more you make things easy for your customers, the more they get attracted to you.
If you want to keep up with the latest restaurant industry trends and high user demands, restaurant mobile app development is the only choice. It's time to give a boost to your restaurant business with a reliable and highly functional mobile app. To develop the best restaurant app for your business, RestroApp is the best restaurant app development company to bridge the gap between your traditional restaurant business and the modern-day approach.
You might be thinking do I really need to design a restaurant app. Yes, there are many successful applications on the market and you can be part of one. But, it's better to develop your own app so that you can reap additional benefits and establish yourself as a brand.
How Will Restaurant App Benefits Your business?
With a mobile app, you get access to a wide customer base.

You can target the young generation and millennials as your customers via your restaurant 

online ordering platform.

To reach a wider audience within their geographical areas

Notify customers via push notification

Increase restaurant online presence

Hassle-free online ordering system

Review the order status

Run loyalty programs for customers

Managing cash flow 

Track the delivery
Related Read: How does a Digital Menu App Add Value to your Restaurant Business?
Features you need to have in your restaurant app:
Your restaurant mobile app should provide a great experience to customers, carriers and the owner.  Just like any popular app, your restaurant app should have these features.
1. Detailed menu and restaurant description: It is necessary to provide clear information about the dishes and their ingredients.
2. Order placement: The order placement should be quick and easy. Offer them an option to customize their dish as they may have different food preferences and intolerances.
3. Custom search: Make the ordering process more comfortable by letting them search for food categories and options to customize their order.
4. Geolocation: This feature is beneficial for the delivery of staff and customers. It helps customers to find a nearby restaurant. Also, delivery staff can easily locate their customers by tracking their location.
5. Multiple payment options: People may look for different payment options, so make sure your app provides multiple payment options like online payment or cash. This will help your restaurant to gain customer's trust and provide them hassle-free transaction experience.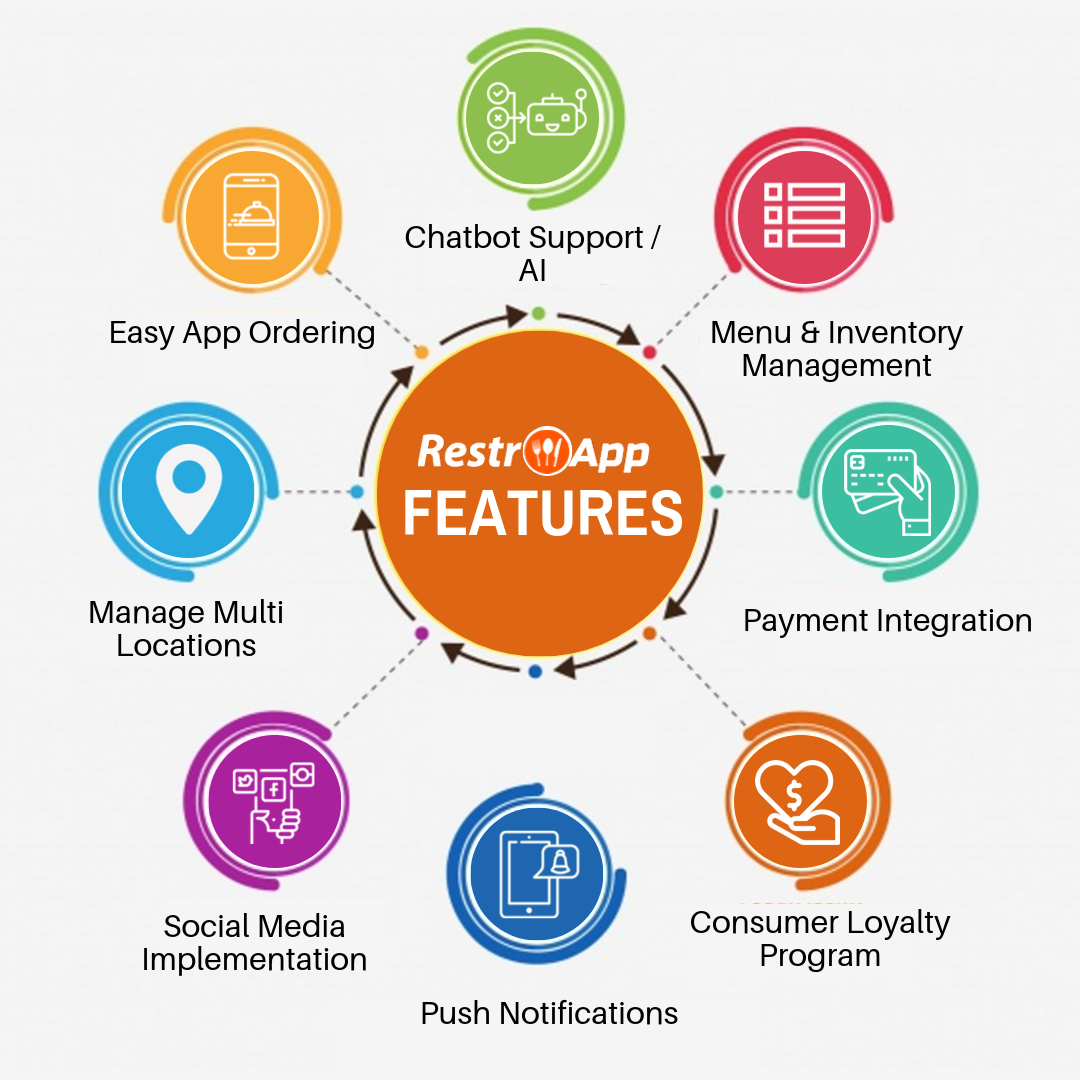 6. Feedback: This feature allows your customers to write a review of your restaurant. I will help you to improve your weak points.
7. Notifications: Notify your customers about the status of their order. You can also send SMS or push notification to let them know about discounts and special offers.
8. Built-in tracker: This option is crucial as customers want to know the status of their orders. Moreover, this is also useful for you, because you can analyze your food preparation process and keep a check on your delivery staff.
9. Social media integration: You might have seen your Instagram feed full of food pictures, this is how much people love food. They like to share their food experiences over social media. Give them the option to share your food pics over the social media. This way, you will gain more popularity and reach a large audience.
10. Loyalty programs: Customers love getting incentives in return for being loyal to your business. Give them good loyalty points, rewards, discounts, and coupons so that they keep coming back to you.
11. Cross- interface possibilities: This is essential for both restaurant managers and the courier staff. This feature will help them to operate orders, update information and communicate with other stakeholders.
12. Order history/analytics: Sometimes the customer gets confused and wants to see what he ordered previously. So, your app should have an option to check order history. You can also add a reorder option. Also, your restaurant should have access to the order history, this data will help you in tracking analytics.
13. Real-time inventory update: Your app should provide a real-time update of the availability for each menu item. This will help your customer to order something else rather than waiting for the dish.
14. Multiple filters: Equipe your restaurant app with multiple filters like most popular, high rated, offers, etc. This will help your customers to easily navigate through your app, and this way, they will get more addicted to your restaurant online ordering app.
15. Easy signup: Don't make the signup process complicated by asking for customer information like name, age, gender, instead link the app directly with Gmail or facebook. This saves users time and makes account creation and verification a lot easier.
16. Making reservations: Your app should have the feature of making a reservation online so that customers can avoid last-minute chaos. This will allow them to conveniently puck a time of their choice and book their favorite table.
Apart from these, you can incorporate some other features to your restaurant ordering app to make it stand out in the market.
Find the best restaurant app development company

The restaurant industry is witnessing extensive growth. People use restaurant apps on a regular basis. If you come up with your product at the right time customers might join you. With growing demands of on-demand restaurant app development many restaurant app development companies have started offering world-class app development services for the restaurant industry. 
Creating a restaurant app can be challenging and should equally benefit both customers and the owner. There are many restaurant app development companies, but you need to find the reliable and one that can create a magnificent mobile app with all the latest features for you.  
Restroapp is one of the best restaurant app development company, that has expertise in creating a top-notch food delivery app. This is one of the restaurant app builders, who are competent and skilled enough to create an app for you with which you can take over the market. They will create amazing  UI/UX that will make people come back to your e app restaurant. They are pro in creating an app that is adored by everyone.
Restroapp objectives of developing an app:
They aim at reaching a wider audience.

Customer engagement

Convenient checkouts

Quick and easy payment options

Social media integration

Multiple payment options.

Live chat support

Customer satisfaction

Scalable food delivery business
What makes RestroApp better than others?
It provides budget-friendly development solutions.

Scalability

Expertise and performance of the development team

Certified developers
If you have any questions in mind regarding how a restaurant online ordering system or works for your business, you can visit RestroApp FAQ page!
Apart from these, RestroApp provides a multi-store feature where you can run more than one restaurant simultaneously. Furthermore, the app takes care of many time -consuming factors and boosts revenue.
We know it's not easy to decide and invest in an app, but you need to join the bandwagon of online food ordering platform well in time. Do your complete research and look for all the features that you need in your app. Well, you have any doubts about creating an app for your restaurant, then get in contact with RestroApp. Restroapp is a restaurant app development company that harbors professional and skilled mobile app developers that work diligently to deliver a unique experience to the users.
We hold the best technical expertise to create a food ordering app with amazing features which can serve your guests in a better way. So, if you want to develop an app for your restaurant business, drop us your requirements. Contact us now and get a quote from us.