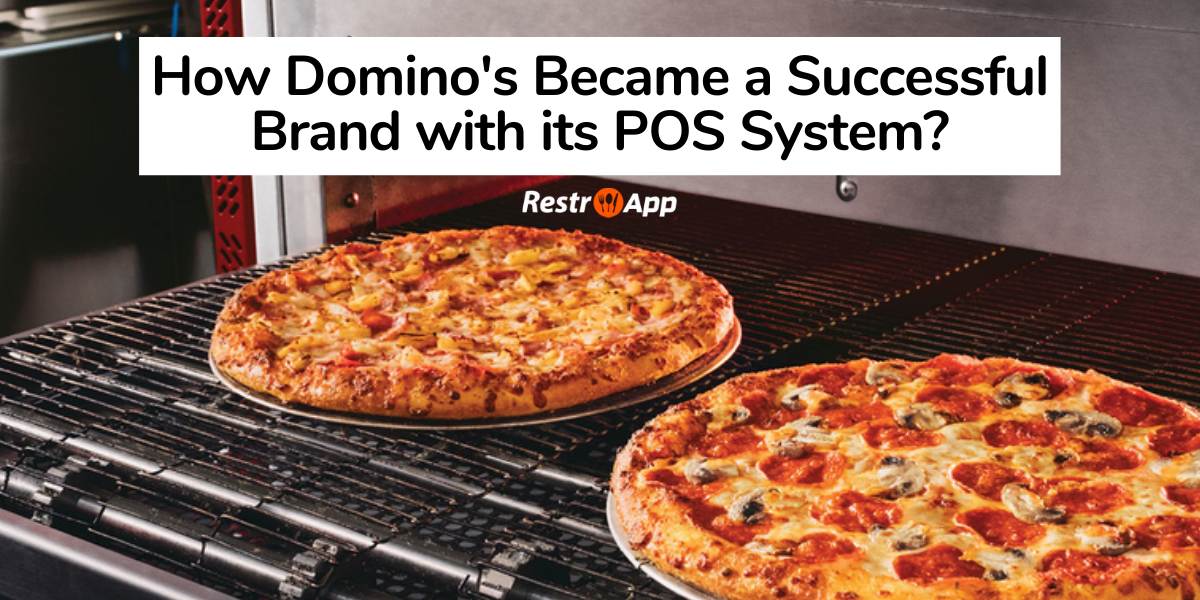 Do you know that Dominos delivers 3 million pizzas every day worldwide on an average?
Are you swept off by surprise? Well, it is true! Over the last 5 years, Dominos has built an impressive and immersive experience for its customers. The brand manages to capitalize on the joy of pizza almost everywhere.
The success story of Dominos is a hero's journey. It has a beautiful journey of reinvention. The smart step by step move has made every customer its fan.
The company is aware of the fact that customers love their pizzas, as online ordering is very convenient.  Domino's knows what to do to define its brand. While it took a lot to start the quick service multichain restaurant, it takes a lot more to make it a successful venture.
Let's explore:
1. Consistency of Quality, Delicious & Hygienic Food is a Must
This one is a significant challenge that different chains have to maintain. If you are unable to fulfill the requirements of the audience, you are likely to lose a lot of potential customers.
You must have observed that Domino's has the same quality across its chain internationally. Above all the food quality, effective online food ordering system and other technological advancements have played a significant role in establishing consistency.
2. Staying Updated 24*7 Days
Do you know that Dominos stock has amplified a 90x increase in the stock value? These growth stats dwarf other giants like Facebook, Google, Amazon, and Apple.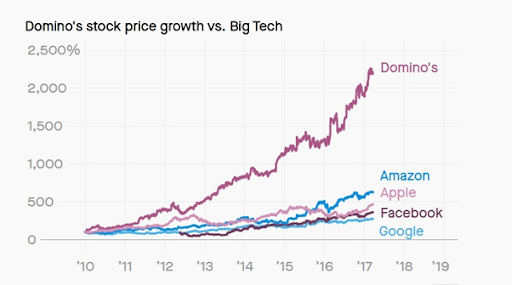 How Did it All Begin?
You must be interested to know how it all began. Well, read the story.
Two brothers James and Tom Monaghan, started small Michigan Pizzeria in the year 1960 with a single store in Ypsilanti. It was then called Dominick's. Both the brothers bought it for $500. Tom later purchased two more pizzerias, but the original owner didn't agree. This is the reason for the revamp by naming it Domino's Pizza in 1965.
Over the Years
Dominos grew its brand in the initial stages and cemented the reputation for fast and convenient pizza delivery.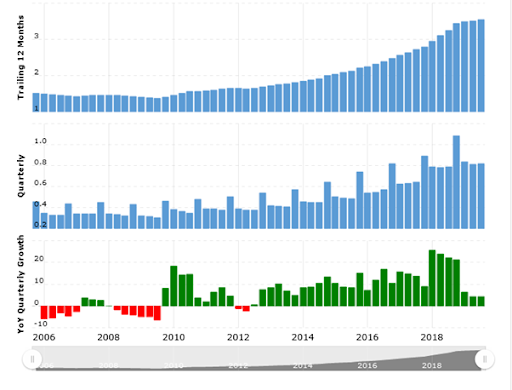 Domino's current president and CEO Patrick Doyle acted on customer's feedback and recreated the recipe. More importantly, he focussed on digital innovation scaling the delivery service. Dominos has more IT department employees than any other department.
Dominos reimagine different ways to order pizza and is using all the available technology. And now the company has made ordering a pizza as simple as choosing an emoji.
Dominos Interesting Stats You Didn't Know
Menu & Products
Most of the Dominos delicacies are new since 2008.

In 1992, Dominos introduced breadsticks as the first national non-pizza menu item

The quickest pizza maker in the world, ME. Wener Lonmker has a record of making three large pizzas in 57 seconds.
International Facts to Consider
Domino's store internationally sells 3 million pizzas a day.

The brand operated 16500 stores in 85+ countries across the globe.

Dominos had more than 400000 franchised and corporate members globally.

More than half of the dominos sales come from outside the US.

New Year is the busiest and highest profit day of Dominos
Technology Oriented
Domino's AnyWare

is a technology ordering technique giving customers 11 digital ways to order.

Dominos generate more than 65% sales via digital ordering channels

More than 75% of Domino's international market features online ordering.
How to Build your Own Multi-Restaurant Food Ordering Chain?
One of the most exciting things about the restaurant business is the creativity blend and specific business aspects.
In the initial phases, you should document a simple plan. Many novice restaurants consider food quality as the only component, but there is so much more to it.
What does it take to become successful at a multi-chain restaurant?
A well-sorted business plan

Unique concept or ideas

Competitive analysis

Financial projections

POS system

Site selection

Menu list
1. Launching a Multi-chain Restaurant: The Basics
Starting a multi-restaurant online ordering system may seem a challenging task. This is because the system should be self-sufficient to give smooth customer experience by managing different tasks. There are a few reliable food ordering systems that make it possible to get high ROI without incurring colossal investment, maintenance, and cost. You only have to pay a genuine one-time fee.
2. Everything in One Place
Dominos has become so popular that its customers have turned into brand advocates. You need to consider the best multi-chain restaurant ordering system features and incorporate them into your system.
The administrative panel or dashboard becomes the management space for sales in the multi-restaurant system. You can have an overview of all the essential stats regarding the online orders. Also, make a smart decision of who should have access to certain information.
3. Domino's Pulse POS System
You must have heard about the popular Dominos POS system-Pulse. But do you know what the bottom line benefits it provides? Here they are:
Improved data visibility

Touch screen ordering

Automatic driver routes

Inventory ordering

Pizza tracking
What Should you Learn from Domino's POS System?
When you are a part of the food industry, you have to be very careful about how much to invest. A good POS system in restaurants helps in administering the business more effectively and generate sales and footfalls.
Every business requires different sets of features, so you have to weigh the food ordering app development cost against what you are getting.
In the restaurant POS system;
Every sale is recorded electronically. The use of paper is minimized, and it saves in terms of space, time, efforts, and employment of human resources. The restaurant POS software registers the sale and includes customer data.
Inventory:

When the business grows, the inventory grows with it. The 

restaurant POS system

 takes care of inventory management, cutting down the hassle. This way, the restaurant is always on track regarding which products sell quickly and what to restock.

Multi-chain:

All the restaurants are linked via POS, and the information is accessible to everyone across different locations. 

You can generate reports regarding the customer demographics, linking them with the type of purchase they make. Building an online restaurant system

is vital to make sure you collaborate with the right development center.
4. Customers Can Choose a Restaurant From a List
How will customers benefit from this type of solution? The multi-restaurant online food ordering system offers simplicity for order placement.
Whenever your customer wishes to place an order, he will be able to browse through the list of locations and choose their choice. As simple as that.
Take the help of marketing tools and use them across all the locations. Go for advanced promotions, launch a loyalty program, provide discount vouchers to customers. You have to decide where and how they have to be valid and for how long.
For every location, the customer database is developed automatically. Send email and SMS campaigns for push notifications on their mobile devices. To accomplish the purpose, reach out to a greater audience and utilize the number of email marketing tools to speed up promotion.
This will certainly impact the sales across the complete chain. This helps in conducting more promotional activities.
5. Tracking & Managing Delivery Zones
Dominos has a live pizza tracker called 'Dom.' This monitors every stage of a customer's order in real-time. It tells, when the chef started making the pizza, when it is put in the oven and when the order is ready.
Similarly, multi-chain ordering should be able to manage delivery zones quickly and easily. The online food delivery system draws the delivery zones on a map. Every restaurant can feature its own delivery zone having minimum orders.
6. Comprehensive Multi-Chain System
The multi-chain restaurant online food ordering system is all that you need for effective sales. Having an app means no additional cost for updates and advertisements. Furthermore, you will be sure that everything will be consistent throughout the brand.
7. Hassle-Free Menu Management
One of the major pros of multi-chain restaurants is quick and easy management across the entire chain.
You can have the same menu for the entire chain and have customized as well. Regardless of which online food ordering app development company will help you save you a lot of time, effort, and money.
Everything is managed so quickly that you can plan and organize your restaurant resources faster and easier.
Pro Tips to Consider
1. Get the Best Team
Chefs are like superstars. So, it is very important to hire a team of best chefs in your multi-chain restaurants who boast years of experience in preparing cuisines. Make sure your kitchen team can satisfy the taste buds of customers.
2. Keep Adequate Funds in Reserve
A sudden slump in business is widespread. But it is unbearable for a startup. A smart move is to deal with a tight money situation, plan capital expense for upcoming months. You will require funds to invest in buying restaurant POS systems and multi-chain restaurants. This makes the whole business user-friendly.
3. Come up with a Memorable Logo
Make sure your restaurant has a logo. Make that logo evident on billboards, newspapers, business cards, websites, apps, social media platforms, menu cards, etc.
Come Up with a logo having a unique design and concept. The logo should be free of clinched elements like a chef's hat, food dishes, etc. Ask your graphic designer to build something interesting. This will act as a tool via which your customers will remember you.
4. The Digital Focus
Domino's SVP Kelly Garcia said that the company focuses on talent acquisition. The biggest drive was to create opportunities for online customers. With this, Dominos became the first company ever to come up with an online tracker and voice ordering app. Dominos pizza created a seamless food ordering app loved by millennials.
Pizzas can be ordered across 11 platforms inclusive of: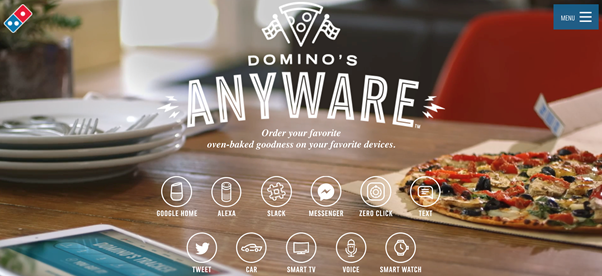 Slack

Facebook Messenger

Dominos

online ordering app

Smart TVs

Smart Cars

Twitter

Google Assistants

Google Home
Text
Zero Click
Voice
Similarly, you should also create your own online food ordering app & website!
Responsive website: Put the restaurant business online via a responsive website. It should have all the relevant information regarding the restaurant like contact information, online orders, menu, and other details.
Device compatible apps: Today, most foodies rely on iOs and Android apps for quick ordering. So, having a reliable mobile app for restaurant ordering will help you get noticed quickly.
While digital marketing should remain the staple of your company, other areas should include development focused squarely on innovation. Furthermore, it enhances brand image and builds public trust.
5. Turn to Social Media
Dominos launched the 'Think Oven' initiative to garner insight from customer's opinions. Individuals were asked to submit reviews on the Facebook page. The idea or opinion having the most attention was awarded a monetary prize.
In short, it wanted to emerge as an eCommerce company that sells pizzas. And in order to accomplish this, Domino's complete corporate team was revised, focusing on digital marketing.
Similarly, you should take the help of an effective way of promotion on different social media platforms. You can also do this with the help of a restaurant food ordering platform. Everyone today is on social media platforms like Facebook and Twitter. Make sure you are active on social media pages and keep interacting with customers.
6. Invest in your Guests
Treat your customers as your guests. You will earn your business by offering them convenience. Make additional efforts to connect and try making a close relationship with them. With all the efforts you make, they will spread a good word of mouth for your chain.
Time to Make your Own Multi-Restaurant Online Food Ordering System Today!
Having advanced technology and out of the box, features help businesses start a food delivery service and stand up with other competitors.
If you are planning to start a multi-restaurant online food ordering system like Dominos, we, at RestroaApp can help you have similar features.
Responsive storefront

Unlimited restaurants

Unlimited orders

Easy and secure checkout

Social media integration

Search engine optimization

Custom delivery zones

Multiple payment gateways

Push notifications/email notifications

Inventory management

Store configuration

Merchant dashboard

Administrator dashboard
Are you starting a new restaurant with a limited budget? Are you short on time and need a quick solution?
We are there for you!
The online food ordering app development company helps you organize your sales across different restaurants. This is not a solution designed for a single location and the credit goes to its functionality. The multi-restaurant online food ordering system helps you optimize cost making business decisions based on online sales.
With every moment passing by, it is imperative for you to go for a customized restaurant mobile app development. Our experienced experts cater to the best features after understanding your requirements. Get in touch with us and we will help you transform your restaurant chains digitally!!