Are you sure your restaurant is earning more profits even if it's not going on a digital platform? Incorporating digital trends with the latest technologies is a must if you need to boost your business. Just relying on the ambiance, food and decorations will not increase your customer base. Recent trends suggest that the restaurant operations should be automated in the way you want but should be customized according to the restaurant size, staff, delivery process, etc.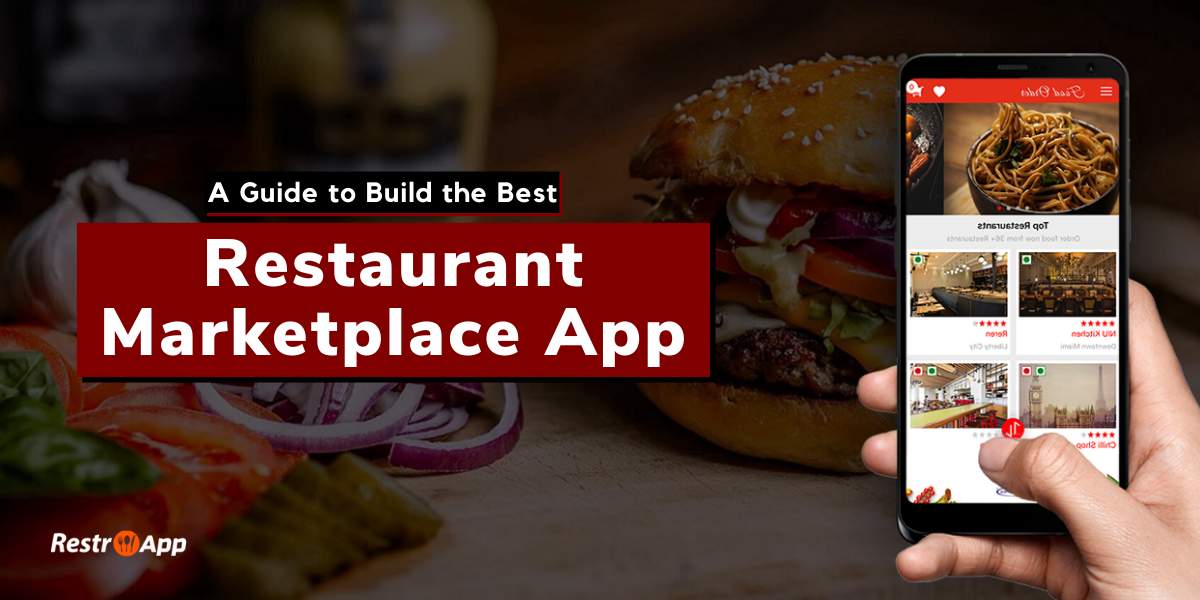 Read this space more as you will get the complete overview of automating your restaurant right from food ordering and delivering to managing staff, table, and kitchen. Here is a quick guide to building the best restaurant marketplace app for your food business. Having a food delivery system is the best way to start with. A multifaceted restaurant management application could help restaurant owners, employees, and customers at the same time.
List of features a restaurant marketplace app:
1. The Restaurant Marketplace App Should be easy to access
Your restaurant app for customers should be designed in a way that the first impression should be good and you should not leave any mark of issues. The restaurant online ordering system is an entry point for your customers to be in the order funnel. UX should be properly designed so that customers can easily find your features of the app. 
2. There should be a Table Reservation Feature
This feature solves issues of waiting outside the restaurant and thus helping customers to book from wherever they want. 

The table reservation feature should be included in your app as it adds extra focus to your restaurant's app compared to other apps in the market. 

The restaurant which is famous in the specific area is always on the verge of running out of space, so this should be the first priority for them. You can also give them offers while booking online. 

This will help to fill your tables beforehand and not worry about asking your customers to wait till the table is vacated. This is the best method to attract customers.
3. Quick Log-in and Registration
When customers download the

mobile food ordering app

, provide them the option of login through your email-id or other social media handles to use the app. You can also set a verification process to verify users. 

Restaurants can use this database of customers to further monitor them and also send push notifications about offers and discounts. 

This step should be designed as easy as possible because this is an entry point for the customer. 

Once they are into the app, your app can direct them to fill the details first like name, address, payment options, etc. 
4. Integration with restaurant management software
Restaurant management software is the foremost part to run any restaurant. 

This helps to manage the restaurant with ease as the software will handle your restaurant operations right from taking orders, kitchen display system, making a final bill to handling accounts. 

The mobile restaurant ordering app, when integrated into restaurant software, contributes to a robust restaurant management system.

After the integration, you can also set up marketing activities via automatic sending of notifications through the database provided by customers at POS. This will be beneficial for marketing.
Related Read: How an All-in-One Restaurant Management Software can Help your Business Grow?
5. Notifications Feature
The notification feature helps both customers and restaurant management track orders. 

From the customer's point of view, they can track the entire process of delivery. Right from accepting orders by restaurant till the final delivery, each step can be tracked by the customer. 

The app can be used to send notifications like 'order accepted, preparing food, out for delivery, and Delivered'. 

From the restaurant's point of view, the restaurant can send notifications to customers for promotional offers. 

Restaurant management software will do the job for you as it can track customer engagements and according to that, you can send notifications. 

You also get to check on your previous customers and keep them in the loop in order to engage them. 

This becomes an important part of your customer engagement and retention strategy. 
6. Listing Interactive Menu on the App
Your restaurant menu should be designed in such a way that it should attract customers within a first visit. The menu should include all the details of a particular food item, any offers with it, etc. Customer experience can be improved by allowing them to customize the order. UX should be designed accordingly and it should include easy menu navigation and quick order placements. Adding photographs will be a plus point. 
7. Multiple Payment Options
Giving different payment options to the customers which your competitors are not giving can increase more app downloads. Your mobile restaurant app should support all kinds of payment modes like debit/credit cards, online wallets, Cash on Delivery. Giving an offer for paying through a card or through a wallet is also the best way to attract customers. 
8. Feedbacks
The feedback system is essential to improve your customer service. Mobile ordering apps nowadays consist of restaurant feedback systems. Feedback forms help customers share their opinions about the food and order experience. Sometimes, the app asks customers to rate the delivery experience. You can also keep the best reviews on the top that describes your restaurant the best. This is an essential part as if the service is neglected the customer retention rate will fall leading to loss. 
9. Segmentation and Personalization
Client profiling should be set up to understand customer behavior. 

At that point, segmenting them will enable you to tailor things like rewards, pop-up messages and so on to best suit your customers. 

Personalized communication will help you to know the customer's desires. 

It will totally depend on how well your application catches and process the data, you can figure out what is clients' preferred items and offer them customized compensations for that item. 

Personalization is all about making the feeling of a 1-to-1 discussion with the customers – to build relations with them. 

As per the reports, 54% of 18-34-year-olds state that 'allowing them to customize items they purchase makes them feel special, which influences the overall feeling of loyalty towards the restaurant.' 
10. Chatbots
Chatbots make interaction with customers much simpler, however, it requires some time to set up. Basically chatbots are PC programs that reenact a discussion between human users. Most of the restaurant's app will incorporate some type of chatbot innovation in the coming years. It is the best method to drive them to order in your absence. 
Design the best chatbot so that you can convert the customers to order from there also. Sometimes, customers also ask about the item details, so it is the best method to interact with them. With the help of an AI chatbot cost calculator it would easy for you to determine the cost of chatbot development.
11. Social Media Integration
Social media integration with your app is a must to stand out from the competitors. For the restaurant business, social proof can bring wonders for your business. 

You can ask customers to share their experience, take pictures and post the same to their social media accounts like Instagram, SnapChat, Facebook, etc

Not simply that, you can use your social media account to woo customers with the integration of your loyalty programs to these accounts. 

Customers can earn points for every reference so at the end of the month or at a certain limit of points they can redeem at the restaurant.  

This incredibly helps in attracting new customers, while simultaneously tempting a one time customer to turn into a repeat customer.
12. Gamification
Gamification can be another feature for your app which is rising rapidly in numerous restaurant applications. 

The key purpose of this is human psychology. It's logically proved that the human mind produces dopamine whenever they are jolly, happy, or get rewards. 

Gamification basically utilizes the game mechanics in the Online Food Ordering Application to remunerate its customers for the completion of a task. And, once completed you can reward them with some offers.

You can design this game with some challenges as it will increase customer engagement.
Now, that we have discussed the features that you should need to include in your restaurant marketplace app. What are the benefits that you are going derive from features?
Here is the list of benefits of restaurant marketplace app:
1. Easy Branding 
When a restaurant has its own marketplace app, it is easy to market according to the way restaurant owners want. When you partner with 3rd party, they will not give you that much space to market your restaurant on their app. On the other hand, if you have your own restaurant's app you will be more flexible to do advertising and marketing in your own way. This is the best benefit of having an app. 
2. No Need to Pay Commissions to 3rd Party Platforms
Once you have your own restaurant marketplace app, you will get direct orders from the customers. When you partner with third-party vendors they will charge you heavily to list your restaurant. You will not be working on a commission basis when you have your own app. 
3. Helping to Place Orders through Chatbots
In many restaurants, ordering still happens by calling the restaurant and giving an order. This becomes a little challenging for the restaurant as the staff has to juggle between the people eating at the outlet and the online deliveries. 
Through your food ordering app, you can place chatbots in your app who would help your customers place the order. These virtual assistants can also collect a database of your customers by engaging with the customers to increase customer service.
4. Creating Automated Financial Reports
With the help of a restaurant marketplace app, you generate weekly and monthly reports of financial statements that track down your expenses, revenue, taxes, salaries, inventory and much more. With such a feature, all the necessary financial reports can be accessed instantly through the system, and this, as expected, will save lots of time and effort.
To check this successful restaurant app click here!
5. Cloud Access
Your restaurant marketplace app has integration to the restaurant management software that has cloud access, which means, you can easily operate it whenever you want. You don't have to worry about the safety, server accessibility and security of the data. 
Thus, the restaurant marketplace app for the restaurant management system will help you to reduce the manual work and can automate the entire operation. It saves a lot of time and also mitigates issues that could come with manual work. In today's world, it is important to follow up with the latest technologies and the best way to start it is digitizing your restaurant.
If you need any assistance in creating a restaurant marketplace app, website, food ordering app, food delivery app, or looking for custom-app solutions for your restaurant business, contact us! Or if you have any query in mind you can simply visit our FAQ page. And, we will assist you to create a stunning marketplace app for your restaurant that will impress your customers in every way.