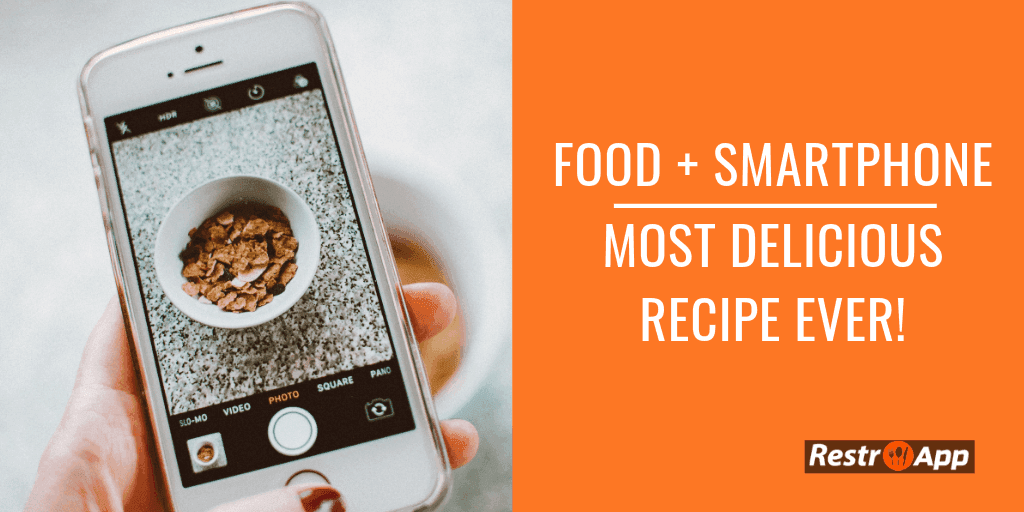 The involvement of technology in food is not new. It all started way back in stone-age when an early man lit the fire by striking two stones together. Who would have guessed that it will give birth to a multi-billion dollar food industry?
Cut to modern times when food is available in all shapes, sizes, tastes, aroma, and cuisines. The chemistry behind these dishes has become a separate field of science. And the food-related innovations are happening around the globe every second.
But there is one more area which has grown exponentially in the last few decades. The present era is called the era of information technology. And this era was started with the discovery of the internet. And, today, all significant technologies like IoT, Big data, cloud computing, and blockchain, etc. are based on the internet.
The medium of using the internet has also changed from big bulky desktops to sleek and compact smartphones. It has made the world so much smaller. Service industries have boomed up. App-based startups have started receiving funding in billions of dollars in each round. The exponential growth of mobile-based unicorns seems unrealistic.
So what happened on the amalgamation of these two giants? Food, which is a business from ancient times and smartphone, which has been the fastest growing industry in the last decade.
How Has Mobile Food Ordering Been Changed the Food Service Industry?
To find the answers to such questions, read till the end!
1. Mobile Food Ordering System
The millennials are always on the go. They neither have time nor patience to prepare food on their own. But they are ready to pay good bucks for good food. Many companies have accurately gauged it. And hence, food delivery apps like Zomato, Swiggy, and Ubereats are showing their revenue sheets with overflowing moolah.
These food delivery platforms have not only boosted their cash inflow by providing the convenience to customers of getting their favorite food at their doorstep but also have given new heights to the marketing of restaurants, which were less known earlier.
The customers can now order from restaurants which are far from their places, customize their orders, track the delivery and avail great offers from the restaurants. It saves so much time and energy. Customers need not face the traffic, pollution, and heat to grab a bite of that tasty treat.
The new culture of food distribution has already started, and it is here to stay. If you have an entrepreneurial mindset, then don't miss this train.
Are you a restaurant owner or food delivery startup? If so, it's the right time to think something innovative by creating a mobile food ordering system & improve customer experience!
2. Mobile Cookery Lessons
Technology has not only made life easier for people who like mobile food ordering but also for those who want to cook their food. The portable device like a mobile phone can be taken into the kitchen, and instructions can be followed simultaneously.
Now world-class chefs are themselves teaching you the dishes you never knew about on their YouTube channels. The concept of celeb chefs is no more limited to TV shows.
Several online platforms of lifestyle channels have moved online. The recipe for every dish imaginable is present online. You can ask for personal assistance from the chefs through live chat. And thinking from the other side of the table, even you can be a celebrity kitchen master online.
If you believe that your hands have that magic and you can share it with newbies, then go online and try to fit in the 6" display of those smartphones.
3. Food Ordering Mobile Apps for Restaurants
The aggregators like Zomato and Uber Eats undoubtedly provide a space for your restaurant online, but it comes with a cost. You will be just one of the many eating places on their list. It takes extra effort to be on the top of the search results in their app. Right!
Why don't you create your own food ordering app? An app which is for your restaurant only.
These food ordering mobile apps will not only provide a restaurant ordering system to your business but also help in menu management, order management, customer engagement, staff, inventory management, and many other features!
You will be able to manage your restaurant through your mobile. It does not only provide a trendy image to your restaurant but also reduces the management costs by a significant magnitude.
Also, if you have a plan for starting a chain of restaurants, your app will help you manage all the outlets through a single system. Therefore, if you dream big for your restaurant, you should opt for a restaurant ordering system.
4. Grocery Shopping Using a Mobile App
There is hardly any retail item that cannot be bought online today. We have discussed online mobile food ordering, but how can we forget about the grocery items?
Particularly in the Indian market, where the grocery is a market of more than 700 billion USD, the playing field for online grocery sellers is enormous. New players like Grofers and BigBasket are facing competition from the traditional businesses that have started to move online.
This industry is volume driven one — number of customers, more the revenue. Therefore, it requires investments in attracting customers. But this competition proves out to be profitable for the customers.
They get high-quality food items at low prices from the best sellers through the mobile app for grocery shopping. You can order everything from fruits to vegetables and from pulses to cooking oils on these apps. They provide you doorstep service as well. Hence, these are happy times for customers.
And if you are still missing out on these services, go and try them today itself and grab those exclusive offers.
5. Marketing on Social Media Channels
The foodies all over the world are not shying away in showing their love for their favorite dishes. And, this trend has helped the restaurants & food service businesses a lot.
The concept of "word of mouth" has been replaced by the "word of Whatsapp status".
Restaurants need not spend money on local advertising. If you are making your servings beautiful and tasty, the smartphone generation will take care of your business marketing.
The Instagram influencers, food bloggers, and other ce-web-rities will post about your restaurant along with pictures of the best dishes in real-time using their phones. The best part is, these food & restaurant business influencers won't even charge you much!
Just let them try your recipe for free and reach the potential eaters in minutes. Also, don't forget to ask them to share the links to your online food order system app.
This will be a call to action in their posts. This marketing is subtle and genuine. If you have put your hard work in your food, it will show on the internet the next day.
To check for reference on restaurant organic and paid social media marketing, visit here!
6. Digital Payments
Apart from the online mobile food ordering apps, digital wallets have helped the street food stallers a lot. How many times did it use to be the case when you missed out on your favorite snack just because you were out of cash? But not anymore, right?
The digital wallets have made it so convenient for street food lovers to pay directly from their bank accounts to the food sellers. These digital payment platforms can be integrated with the restaurant management system also. Customers will be happy to pay the bill using their phones instead of handing over their credit cards to other people.
Even in the grocery stores and other retail shops, you can now pay using these online payment options. It reduces the number of cash transactions and also helps the nations worldwide to become cashless economies.
7. GPS, Location Intelligence
Suppose you are going on a highway, and you are damn hungry as you are driving for the last 2 hours. You need an excellent place to eat, but all roadside eateries are looking disappointing.
At that time, the GPS and location intelligence in your phone and our favorite Google Maps can help. Maps can tell you about the best eating places in the town which you are passing through along with the user ratings.
Geofencing and location intelligence is helping the restaurants also. They are not missing on those customers who would not have chosen to come to their restaurant by deviating from the road. Hence it is a win-win situation for both sellers and consumers.
8. Food Aggregators on Train Stations
Online pre-booking of the meal in a flight was always an option for the passengers. But now commuters can book their meals on a train also. And again, with the help of smartphones. There are multiple vendors food aggregators on train stations that are available and can serve you hot food at your berth during your journey.
Now passengers need not pack their food for train journeys or travel for hours without eating. There is no need to get down at the railway stations and rush to the nearest stall to grab a delicate piece of snack.
All they have to do is unlock their smartphones and order their favorite dish, which will be delivered to them at the next station.
9. Tiffin Services
Not only restaurants and street food stalls are getting benefits with the help of mobile food ordering. Now, even the small tiffin services are reaching their customers with the help of mobile food ordering systems.
Whether they are hostellers, students, bachelors, or working professionals, at the end of the day, they all need homely food on their tables at an economical price.
And to provide this facility more easily, the tiffin services or the Dabba services are going online. Now consumers can tell these services about their required customizations through their apps. They can choose the dishes from the available catalog.
The quantity and time can be changed quickly and frequently. And at the same time, service providers are also able to manage this information efficiently with the help of mobile food ordering apps.
10. Authenticity Checks
The food products are vulnerable to adulteration all around the globe. Whether it's your trustworthy protein supplement or the favorite milk brand, every popular food product is subject to duplicity. This poses a lot of risk to the health of consumers and the reputation of the food company.
Smartphones are helping in checking the authenticity of these products. If you are skeptical about a food product's genuineness, you can check it through a bar code scanner or QR code scanner present in your smartphone. These scans can give you complete information about the product and a guarantee of originality.
Summary and Conclusion
We started with the discussion of the mixing of two chronologically poles apart industries. And we saw in detail how smartphones are impacting the food and related businesses.
From restaurant online food ordering systems to food product verification, smartphones are helping this sector to expand and satisfy people's hunger in a better way.
There is still a lot of scope for technology & food marriage in the future. The latest entry of AI, through which your virtual assistant will order food for you from your favorite restaurant, has shown how humans will not be required for operational tasks in the future. The technologies like blockchain will transform the whole logistics of the food delivery business. Data analytics can show the latest trends in food-related industries.
Hence, garnishing the food industry is incomplete without the use of technology on the top!
Hope we have managed to give you some useful insights. If there are any questions or doubts that are troubling you, get in touch or Email us at info@restroapp.com, and we will revert you with the most suitable answers as soon as possible!