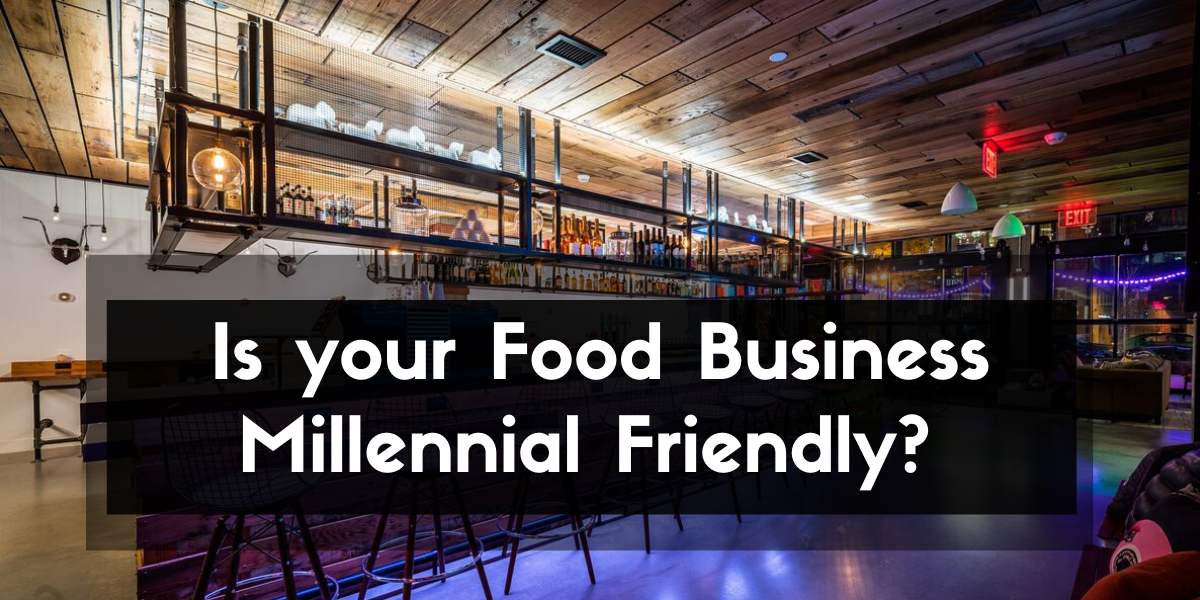 Accenture reports that American Millennial shoppers spend $600 billion each year. And, by 2020 it is expected to reach $1.4 trillion annually.
By these stats, you can easily make out how important is their role in total retail sales. And, if you are not paying attention to their needs, you are losing customers. Millennials, the generation born in the '80s, can be your food business's potential customers. To further increase your sales, you should know how to pitch your business to serve them better, and convert them into your regular customers. 
All this takes more than excellent and reasonable food. Millennials look for a robust digital presence before choosing any restaurant. You need to invest in high-tech websites and social media to capture business. Moreover, the market on the platforms where potential customers are already present.
Forbes reports that Generation Y millennials are influenced by technology tends. So, as a restaurant owner, you need to team up with the latest technologies and trends to serve them better.
Here in this blog, we highlighted all the points that will help to have a millennial-friendly food business!
1. Keep up with food industry trends
Millennials are quite cautious about their health and well-being. They are particular about their food choices and ingredients and always in the hunt for new food items. Generation of millennials has redefined the term healthy food. Recently, the demand for kale has risen to 400% since 2008 due to millennials. 
As a restaurateur, you can't change the whole menu, but try to incorporate healthy and accessible food trends like gluten-free, organic food to attract millennials. Nowadays, many restaurants menus have farm or organic options.
Moreover, the vegan or vegetarian-friendly version will also appeal to millennials taste buds, so keep in mind the healthy vegetarian options. Instead of stocking your kitchen with frozen vegetables, opt for locally sourced fresh fruits and vegetables.
Apart from this, design an informative food menu that features nutritional information along with the food item.
2. Get your restaurant business on social media
Social media highly influence millennials. It affects their purchase decisions. The best way to engage millennials with your brand is to build a strong social media presence. So, you need to spare some time and to create a social media campaign showcasing your restaurant services. You can run a contest, share high-quality food pics, announce events offer discounts, and more.
Don't jump into all the social media platforms, instead, start with one and master it, and later on the move to another.
3. Follow new restaurant industry trends & technologies
Millennials hate waiting and look out for every way to cut the crowd. If you want to cater to all their conveniences, then you need to offer them the latest restaurant industry trends & technologies.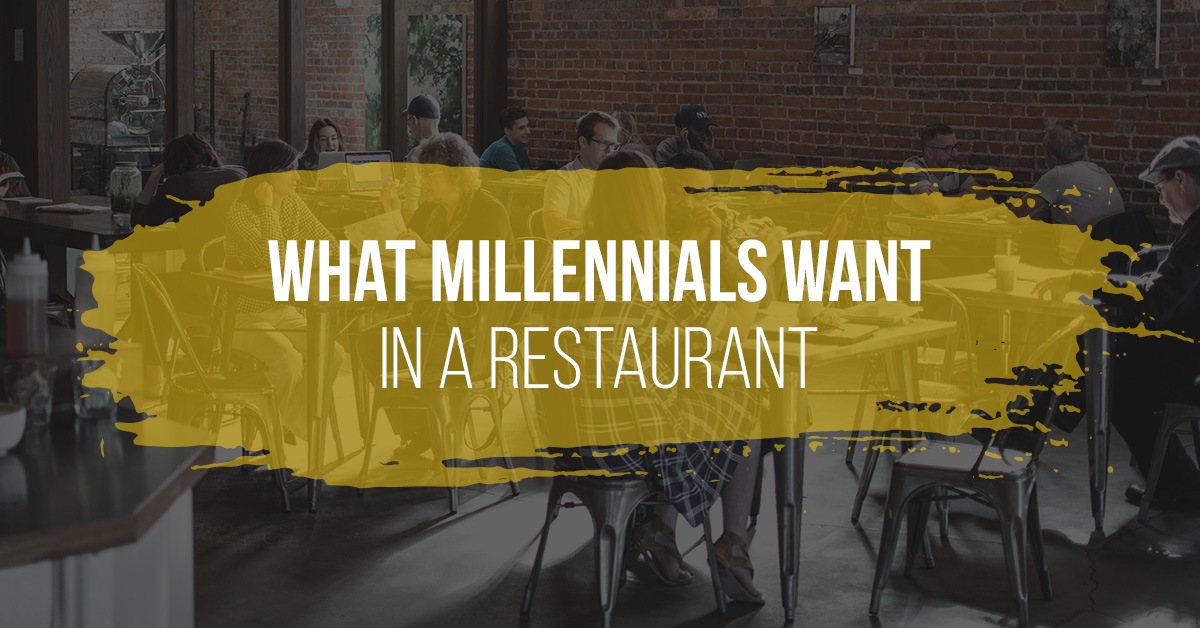 What millennials want in a restaurant? Is it something specific about food, ambiance, interior, etc? Check these points about the restaurant industry trends. These points will provide you a better understanding of their requirements!
Restaurant industry trends & technologies that you should consider to provide a better experience:
Guest management system: 

This helps millennials to check wait times and make a reservation via the app. With a mobile app, you can get connected to the consumer's network, which can help you in improving your services. Not only this, with guest analytics, you can track the latest trends and make wise business decisions.

Kitchen Automation Tool: 

This can help you increase your kitchen efficiency. It reduces kitchen tickets, hence improves food quality and customer experience. Not only this, but it also provides key metrics about your kitchen staff by which you can track their productivity.

Guest Wi-Fi: 

These days, people love to be online during work hours. Guest Wi- is a great way to attract a large group or solo guest to your restaurant. This could be a way to increase your lunch sales as corporated would love to have good food along with good connectivity.

Self-service Kiosks

: Self-service kiosks let customers avoid the queue. Big restaurant chains like McDonald's, Wendy's have implemented self-service kiosks. Kiosks improve accuracy, provides convenience, and enhancing the dining experience.
Related Read: A Look at the Latest Disruptive Trends in the Restaurant Industry
4. Present the food in the right way
People not only expect a restaurant to serve good food but also they want their food to look good. So, you need to take time to make your food items presentable that appeal to millennials' eyes. Make your food Instagram worthy, so that they share your food pics with their peers. This is one of the easiest ways to get traction from a mass and make your restaurant discoverable.
5. Create a nice ambiance
These days, apart from food, people look for ambiance. Millennials want more than just a place to eat. You need to think out of the box and make your ambiance breathtaking so that people would love to visit you. To need to take care of decor, design, and even background music to attract millennials.
6. Offer online food ordering
Millennials favor speed and convenience more than good food. No wonder, ordering food online has become popular. You need to incorporate an online food ordering system to your restaurant's ordering process and give millennials faster ordering options. Once they have interacted with your brand, it's more likely that they might visit you in person.
7. Give them fast deliveries
As per the 2017 Food and Health Survey, 55 of millennials look for convenience when buying food. They mostly look for food trucks, online ordering platforms, restaurant online ordering apps, and heat-and-eat options. You need to provide them better delivery options.
8. Customize food
They don't want to stick to old ways of having food. Instead, they want to have their burger their way. They want to customize their dishes and add their flavors to it. Offer them customization options, so that you become their personal favorite.
9. Be mobile-friendly
Millennials are always on their phones on the go. Mobiles have become a virtual face of society. It's time to get mobile-friendly and create a mobile-friendly restaurant website and app to reach the right people.
10. Better snacking options
Millennials love to snack. Instead of large portions, they love to choose from snack options. You need to provide them healthy snack options like chia seed pudding, roasted chickpeas, and more.
11. Maintain your restaurant's Google presence
Millennials like to do some search before deciding to visit you. In the highly competitive restaurant game, your business must be discoverable. These days people tend to search restaurants online and go through their online reviews and uploaded pictures. Moreover, you must show up in google search results. To drive more orders, you need to list your business on Google, my business.
12. Be truthful
Millennials love to know all about their food like where it is coming from. So, let them know the source of the ingredients.
A BCG study points out that millennials care about organic foods more than others. It will be great if you could grow your ingredients locally and serve organic food.
13. Social responsibility
Millennials love brands that care about the environment. So, indulge in some social activity and create awareness. You, as a restaurateur should opt for eco-friendly swaps. Switch to brown bags instead of plastic bags and use cutlery made from disposable wood and use compostable packaging. You can also use dried pasta as straws.
14. Contribute to the community
Keep track of your stock and think of better ways to re-use ingredients for more than one dish. You can contribute leftovers to the charitable organizations. Forbes reported that 75% of millennials see brands with a strong philanthropic spirit higher than the rest. 
15. Source  Local ingredients
Millennials are getting conscious of food sourcing and ingredients used in the restaurant. So, to win their trust, you need to provide them with organic food and local produce. Investing in local harvest will cost you more, but it will set you apart from the crowd.
Try to use eco-friendly ingredients in your food items. Add detailed menu description which let your customers know what they are eating. Millennials will be happy to pay more for the homemade items and ingredients coming from the farm.
16. Offer an experience
Millennials keep looking for a pleasant experience. Great decor and ambiance can have a significant impact on millennials. Create a mesmerizing atmosphere at your restaurant with live music, lighting, and decor. You can even upgrade your furniture pieces by adding some art into it.
And, if your restaurant has some stories to tell like what inspired you to open a restaurant. Tell them your brand story, and they will connect more.
17. A creative menu
Get creative with your restaurant's food menu. So, instead of naming the popular food items the traditional way, try to come up with exciting vocabulary. You can update your restaurant menu according to your restaurant theme and the original menu.
To read more about how to create a restaurant ordering menu app, visit here.
18. Culinary and diversity
This is one of the most diverse generations in the United States. It comprises of 50% of non-white people. The popular cuisines are Indian, Asian, Middle Eastern, and African. To cater to a broad audience, many restaurateurs are infusing existing menus with the cuisines mentioned above.
Apart from diversity, millennials prefer creativity. So you should also include a new trend of adventures eat to attract curious eaters.
19. Make your place Instagram-worthy
Today, people share their food experience by capturing and sharing restaurant pics over social media. Everything counts from food to the physical environment. You need to revamp your restaurant decor so that it could gain traction of the Instagrammers who are always in the hunt for nice backdrops. To make their experience, pleasurable incorporate quirky wallpapers and add catchy phrases in the form of neon signs. You can experiment with colors, decor, and art to secure your place one of a kind.
Mainly focus on all the above things to make your restaurant millennials friendly. You need to take care of millennials as they will become your long-term customers. Also, you need to pace up your technology game as they settle for nothing less.
Furthermore,  try new trends and diverse dishes to make your customers experience more pleasurable!
Although, if you still have questions in your mind like why do restaurants need to adapt to the technology trends? What is the future of online food ordering, subscribe RestroApp blog to stay up to date with restaurant app trends.