If you are new in business or already established, restaurant social media channels are a great to promote your brand online. Everyone is online, whether we talk about businesses or customers. For restaurateurs, it is one of the best mediums to promote their food items to customers as well as the community. A successful restaurant knows the reason for its real success, which is building a strong bond with the local customers.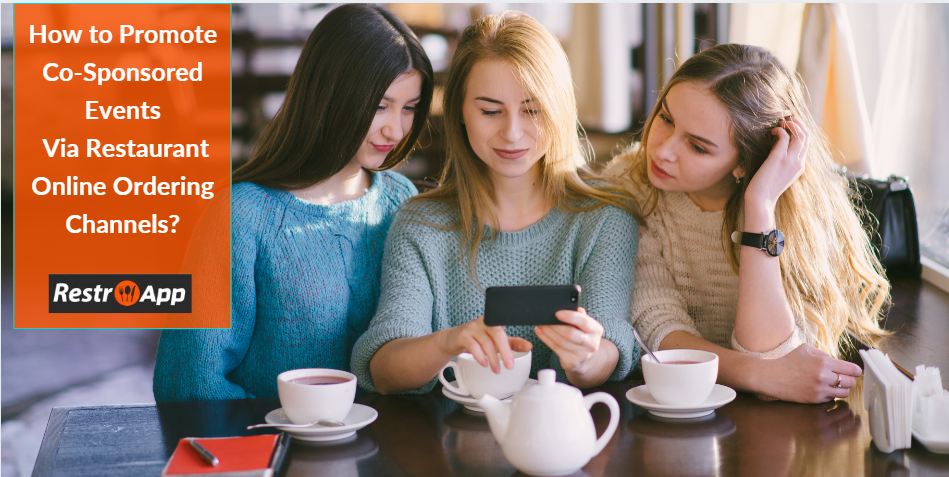 As a restaurateur, you should not only promote your food items but also be part of the local community. And, how can you be their part by participating in local events and promoting local events across your social media accounts?
You can use online platforms and through event marketing strategies for restaurant event promotions. This will be good for your business and a great way to serve the community.
Many people are generally interested in knowing about local events in their community. So, by promoting these events online, you will be able to build strong communication with your customers.
Many top tier food businesses are using restaurant social media channels to market their co-sponsored events across the local community and encouraging your customers to participate. According to Greggs Annual Report, the brand was up on sales by 7.4 percent to £960 million in the UK, using these social media strategies as a part of its overall marketing strategy. 
Restaurant event promotions ideas:
There are several ways by which you can promote co-sponsored events. Let's know about some of the restaurant event promotions ideas:
1. Promote on social media :
It is where people are, so it's better to advertise on restaurant social media channels. It is a cost-effective way to reach a large audience. You can promote community events on your restaurant online ordering channels, so that your customers get to know about them.
In general, here's how you can use the different social channels for restaurant event promotions.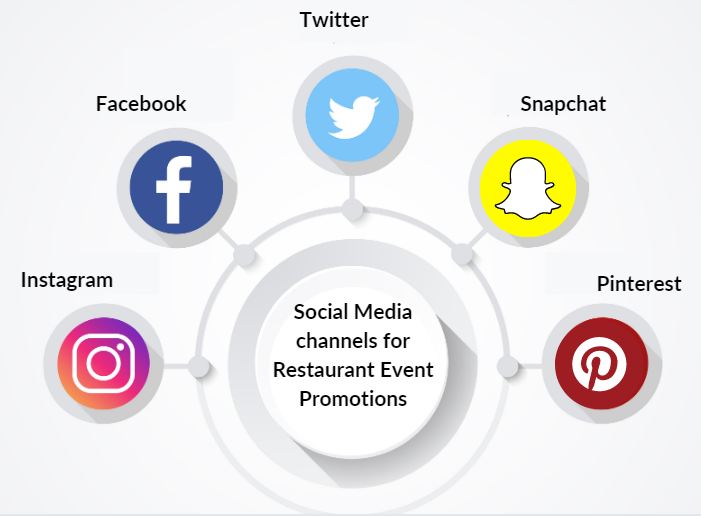 a) Facebook
:
You can also create an event on Facebook and promote it on your business page. It is the best Facebook Marketing Ideas For Your Restaurant Business
 Steps for creating an event on your Facebook page.
Click  "Create an event" on the top of the timeline

After this, add an event video or picture, then enter the event's name, location, time, date, and frequency (such as one time, weekly, monthly, or recurring event).

Then click publish
This way, people will be able to interact with the event and get all the key information like where it is happening, where they can buy tickets and what all are key features. Don't forget to add special activities or menu items served at the event.
Share high-quality and engaging pictures to attract the crowd. You can also use these images as a regular promotional post to reach people from different areas. This will give you a good opportunity to interact with a large audience.
 Your followers will come to know about the event through your business page and they will more likely invite their friends too.
b) Twitter 
It is a great place for real-time updates of the event. You can use a particular hashtag for the event for every post. Tweet early and often, so that it reaches maximum people. You can also embed the link to your tweet on your restaurant website or other social media channels. It will allow you to track analytics linked to that particular tweet.  Use Twitter Promotions in the most effective way for your restaurant business.
c) Instagram and Pinterest
These are the visual channels and are perfect for sharing high-quality of the teaser of the event. You can also share images of the key performers, this will entice the crowd and help Restaurant Instagram Marketing.
d) Snapchat 
It is one of the most popular applications among the young crowd. Many businesses are using Snapchat Marketing for their Restaurant Business to reach potential customers. It is a fun and easy way to promote your events.
Moreover, it allows businesses to create their geofilters. These filters are the customized graphics that people use over their pictures before sending them to their friends. You can easily create a filter related to your event either before the event or while it is happening. The best thing is that you can easily determine the geographical location where the filter will be active. When a user takes a snap, one automatically gets access to the filter. Once the user chooses it and sends the snap, the event is promoted to people who receive the snap.
2. Social Reviews:
Getting reviews from the customers of the previous events and share those feedbacks from various channels like Facebook reviews, Google reviews, Yelp reviews, etc. to excel your business promotions to the prospect audience. This will give a clear vision, sharing the right information, and help to build trust to the user
3. Website Ordering  Platform:
To start your sponsored events and programs, it is one of the best restaurant promotion ideas to display the co-sponsored event details on your own website food ordering platform, highlight it with offers there, and promote it through the web link in all social media channels.
4. App Ordering System:
We can help you to create an effective restaurant ordering system or app ordering system. Using the app as an online food ordering platform, you can promote your business and list your events to reach targeted potential customers. We will be delighted to help at every step of creating an app ordering system for your restaurant.
5. Push notification through mobile app:
You can send push notifications to your users through mobile apps and let them know about the event that you are promoting. This is the best way to talk to your customers and getting your message across.
6. Email marketing :
You need to collect the email addresses of the people who download your app. Adding them to an email distribution list will be quite effective, and you will be able to get your message to your users. They will come to know about local community events that you are promoting. You can provide a lot of information in your email such as:
Date and time of the event

Venue information

Clear CTA buttons

Contact information

Reason to attend

Video of the highlight of previous day events
The subject line of the email is the most important part of the email campaign. Craft a good subject line and draft an email worth reading. Also, make sure to add a call to action that directs readers to the event page. It has been seen that emails with video get 96.3% more CTRs.
7. Reward Points:
Create an incentive program for your customers and give them loyalty points for attending and participating in the event.  This way, you will be able to serve the local community. These types of promotions can be successful in cultivating an interest in the audience.
8. Post highlights from last year's event:
People love watching videos these days. Show your customers what they can expect from the event. Post video of the highlights from last year's event across your restaurant social media channels. Also, create a beautiful thumbnail of the video to attract the crowd.
9. Use the unique hashtag:
Take advantage of hashtags and come up with a unique hashtag that is related to the event. The right hashtag can make your post go viral and people tend to tag their images. Engage with people who use your hashtag and tell them you will be happy to see them at the event. Building a personal connection with your customers goes a long way and as people love getting attention.
It doesn't matter which social platform you are using, but make sure to include the event's hashtag in your every post. Hashtags can be used in three different phases of the event.
Before the event

During the event

After the event
All Restaurant Online Ordering Channels expose your event to a large number of people without putting much effort. You just have to adopt effective marketing ways to get the best results. The more actively you will promote events, the more reputable your business will become.
So, think different and look out the events that are happening around you and start restaurant event promotion on a large scale. For any queries drop us a message on info@restroapp.com or contact Restroapp @ +1-619-309-4653.